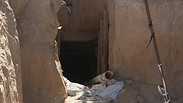 Gaza tunnel
Photo: IDF Spokesperson's Unit
State Comptroller: PM withheld information from cabinet regarding Gaza tunnel threat
In final draft of report, Comptroller Yosef Shapira levels harsh criticism at Netanyahu and former Defense Minister Ya'alon for inaction and for failing to properly inform the other ministers of the severity of the threat.
The State Comptroller, retired judge Yosef Shapira, has filed the final draft of his report on the Israeli political and military leadership's handling of the Gaza tunnel threat before and during the 2014 Operation Protective Edge.

Officials who read the report say it levels harsh criticism—compared to previous drafts—against the political leadership, including Prime Minister Benjamin Netanyahu and then-Minister of Defense Moshe Ya'alon.

Some of the criticism relates to the fact that the two never held an organized cabinet meeting on the topic and did not update other ministers on critical pieces of information, despite being aware of the severity of the tunnel threat in the year leading up to Operation Protective Edge.

According to information obtained by Yedioth Ahronoth, Shapira adopted the language used by Education Minister Naftali Bennett, who at the time was the economy minister.

The comptroller writes that there was no in-depth discussion at the Israeli cabinet on the threat that the tunnels posed until Bennett pushed the issue.

Furthermore, the report states that Netanyahu and Ya'alon determined that general statements and information would suffice as opposed to bringing the issue in all its severity to the cabinet. As a result, Shapira notes that Netanyahu left out information to cabinet members and was not accurate in conveying the facts regarding the threat.

According to officials who read the report, it determines Netanyahu dismissed the tunnel threat and did not act to prepare an operational plan against it.

While the final draft of the report softens its criticism of the IDF, Shapira emphasizes that the IDF chief of staff and senior military officials are expected to press the minister of defense and the prime minister to hold a discussion on the matter. However, the report did determine that the IDF failed to convey to the cabinet the seriousness of the threat that tunnels posed to forces in the field.

Recipients of the draft report include the chief of staff, as well as cabinet members during the operation: then-Foreign Minister Avigdor Lieberman, Minister of Education Naftali Bennett, Public Security Minister Gilad Erdan, then-Minister of Justice Tzipi Livni and then-Minister of Finance Yair Lapid.

Now, the battle over whether or not to release the report to the public is being waged. The opposition is concerned that Netanyahu will exert political pressure in an attempt to stop the publication of the report.

A source close next to Netanyahu said, "The tunnel threat in all its severity was presented to the cabinet in 13 different meetings. The Prime Minister described it as one of four strategic threats to the State of Israel. When this is the case, you cannot seriously argue that the threat wasn't presented in all its severity to cabinet members."