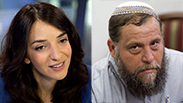 Aharish and Gopstein
Photos: EPA, AP
Gopstein waves rag with photo of Israeli Arab journalist: 'We'll make the media wash the floors'
Founder of radical right-wing organization Lehava attacks journalist Lucy Aharish and the rest of the Israeli media: 'The media needs to understand that just like it fought Trump, the more they fight me the more it'll strengthen me.'
Bentzi Gopstein, the head of radical right-wing anti-assimilation organization Lehava, slammed Israeli Arab journalist Lucy Aharish and the rest of the Israeli media on Thursday evening.

Gopstein waved a rag with Aharish's photo printed on it during a Jerusalem event in memory of Rabbi Meir Kahane, which was attended by hundreds of people and included speeches from other prominent right-wing figures such as Rabbi Dov Lior, attorney Itamar Ben-Gvir and former MK Michael Ben-Ari.

"All these media rags, when we are in the government, we'll make them wash the floors," Gopstein told Ynet afterwards.

"The media needs to understand that just like they fought (US President-elect Donald) Trump, the more they fight me the more it'll strengthen me," he added.

On Aharish, Gopstein said, "she can't forget what I told her and keeps crying. She compared me to Hamas. So we'll make her nightmare come true."

Gopstein is referring to an incident in July 2014, when Aharish interviewed Gopstein on her morning show. "This isn't your country. You shouldn't be here," he told her.

"The moment he left, I pushed my chair backwards, turned around and burst into tears," Aharish told Ynet's print-publication Yedioth Ahronoth in an interview last month. "Why should I feel that someone hates me because of who I am? It's like ISIS. Gopstein is like the garbage can of Islam."

She went on to explain: "You know what shattered me, that day with Bentzi Gopstein? It wasn't the first time I had heard that kind of talk. What shattered me was the hatred in his eyes, because of one thing only: Because I am an Arab. His hatred reminded me of the terrorist who threw a Molotov cocktail at me and looked at me. I was the only one who saw him, a five and a half-year-old girl. Gopstein's gaze had the same hatred."

In response to Gopstein's rag with her photo on it, Aharish told Ynet: "He can do whatever he likes. He's not worthy of a response."