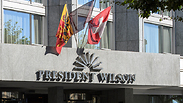 Site of nuclear talks
Photo: AP
Twelve Iranian officials have been arrested on suspicion of espionage, an Iranian parliament member was quoted by Al-Arabiya as saying on Friday.
According to the report and MP Hussein Ali Haji Degana, all 12 of them had key negotiating positions on the nuclear deal signed last year.
Degana, a parliament member in the opposition, demanded that the judiciary deliver rulings with transparency, and inform the public of the identities of those detained, some of whom apparently possess dual citizenship.
Iran's Minister of Intelligence Mahmoud Alavi and other officials previously denied the existence of dual nationals in the Iranian decision-making apparatus. According to previous reports however, Abdol Rasul Dori Esfahani, one of the chief nuclear negotiators, was arrested following allegations of dual citizenship following his family moving to Canada.
Earlier this month, the Swiss Attorney General announced the freezing of a criminal investigation into allegations of espionage at the nuclear talks hosted in Switzerland in April of last year. The investigation was launched one month after talks were held at the Woodrow Wilson hotel in Geneva following the discovery of malware on computers.