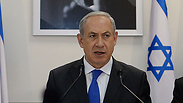 Prime Minister Netanyahu
Photo: Koby Gideon, GPO
Netanyahu to break Ben-Gurion's record for longest consecutive term as prime minister
With 2,788 days consecutive days in office, Netanyahu will break one of the records set by Israel's first prime minister, but in order to break Ben-Gurion's record of overall time in office, he would need 972 more days.
Prime Minister Benjamin Netanyahu is expected on Sunday to pass David Ben-Gurion as the prime minister who served the longest consecutive term in Israel's history.

Like Netanyahu, Ben-Gurion also served as prime minister in two non-consecutive periods. Ben-Gurion's first term lasted for five years and nine months until January 1954, when he resigned following a series of political clashes inside the coalition. He then retired to Kibbutz Sde Boker, only to return a year and nine months later for a longer second term that lasted 2,790 days.

As of Friday, Netanyahu has served 2,788 days consecutively spanning over three terms after having been re-elected three times in 2009, 2013 and 2015.




To break Ben-Gurion's overall record, which includes both of his terms, Netanyahu would need to serve as prime minister for 972 more days—about two and a half years.


Ben-Gurion served a total of 4,872 days in office. Netanyahu, whose first term in office was from 1996 to 1999, has served a total of 3,900 days.

The next elections are scheduled for November 5, 2019—1,082 days from now. If early elections are not called before July 2019, Netanyahu will have broken that record.

Even on a world scale, that's impressive. Data collected by Dr. Ofer Kenig of the Israel Democracy Institute (IDI) shows Netanyahu is ranked at 62 in length of consecutive time in office among hundreds of leaders of democratic nations—both past and present. If he completes his current term, he will leap to the 21st spot.

Zionist Union MK Merav Michaeli has submitted a bill proposal in the previous Knesset's term to limit the prime minister to two terms in office, but the legislation wasn't put to a vote.

A year ago, Michaeli tabled the same bill, which was put to a vote in a preliminary reading after the heads of the opposition's parties added their names to the proposal. Yisrael Beytenu leader Avigdor Lieberman, who at the time was still in the opposition and a staunch critic of Netanyahu, gave his full backing to the proposal, as did Yesh Atid leader Yair Lapid and Zionist Union leader Isaac Herzog. Joint List leader Ayman Odeh and Meretz leader Zehava Galon chose to miss the vote, however, and the bill failed to pass.

The six months cooling period required before Michaeli can raise the proposal again have since passed, but Michaeli is waiting before putting it to a vote again.

"It's a complex proposal and we need to wait for a very specific political situation to pass it," she said.

Lieberman, who supported the proposal in the past, would not vote for it now when he's the defense minister in Netanyahu's government.

To stop Netanyahu from claiming that the bill proposal targets him specifically, Michaeli set a provision according to which the legislation would only come into effect during the election for the 22nd Knesset—two terms from now. This would allow Netanyahu to continue serving for four additional terms, but despite this he continues opposing the legislation.

IDI researchers believe the solution is not in limiting the prime minister's time in office, but in passing legislation that would determine that the head of the biggest party would be the prime minister.

"The political system does need a structural change to increase government stability and the ability to implement long-term plans, but limiting the prime minister's term will not provide the answer for that," said IDI President Yohanan Plesner, a former MK. "It is no coincidence that there is no mechanism to limit the term of the state's leader in all other parliamentarian regimes."