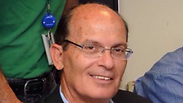 Brig. Gen. (res.) Avriel Bar-Yosef
German businessman allegedly bribed senior Israeli security official
Police suspect German businessman Michael Herzog, an associate of would-be national security advisor Brig. Gen. (res.) Avriel Bar-Yosef, invested in a startup founded by Bar-Yosef's daughter as a way to butter up her father so he would promote Herzog's business interests in Israel's gas market.
New details have emerged from the investigation into Brig. Gen. (res.) Avriel Bar-Yosef, who was slated to become the new head of Israel's National Security Council (NSC).

Bar-Yosef, 61, was arrested for the alleged offenses of bribery, money laundering, fraud, and breach of trust, while working to promote the interests of a German business associate.

Police investigators suspect that German businessman Michael Herzog invested 700,000 euros (roughly NIS 3 million) in a startup company founded by Bar-Yosef's daughter, Dr. Hila Fogel, in an effort to butter up Bar-Yosef himself—the deputy head of the NSC at the time—so he would promote Herzog's business interests in Israel's gas market.

Bar-Yosef is suspected of using "security reasons" as a pretext to build a gas facility that cost billions of dollars, which benefited Herzog's business interests. This, despite objections from international experts in the gas field.

Bar-Yosef denies the allegations against him.

It has now come to light that Bar-Yosef's daughter was also arrested and questioned over suspicions of conspiring to commit a crime, receiving bribes and laundering money.

Investigative journalists from Ynet's print-publication Yedioth Ahronoth found that Herzog had Bar-Yosef's daughter, Dr. Hila Fogel, fly to Berlin on his private plane three months ago, but it now seems that the VIP treatment was only a small perk compared to the hefty sums she allegedly received from Herzog's investment fund.

Dr. Fogel, a neurophysiology researcher who researches Alzheimer's among other things, founded a company called NIBS two years ago with a fellow researcher from Tel Aviv University. The company deals with electrical brain stimulation.

In early 2015, Fogel traveled to France to meet with potential investors. A month later, Herzog's investment fund decided to invest 700,000 euros in the project in return for control of 30 percent of the company's stocks.

Police investigators claim this investment in Fogel's company was actually a bribe meant for her father Bar-Yosef.

Fogel denied the allegations against her, claiming it was a "legitimate investment," which was accepted after she sought legal counsel on the matter. She confirmed to police investigators that her father was indeed the one who introduced Herzog to the company, but claimed there was no obligation made on Herzog's part. In support of her claims, Fogel noted that Herzog is a physicist and that's why his investment in her startup made sense.

After being questioned, Bar-Yosef and Fogel were both put on a five-day house arrest.

Bar-Yosef's lawyer, Jacques Chen, said the police investigation "is looking into matters that have been made public in the past by interest groups. Mr. Bar-Yosef answered all of the investigators' questions and clarified the situation to them. I'm confident that at the end of the investigation, allegations will be proven baseless and no faults will have been found in his conduct."

Yaron London, who represents Fogel, said: "My client acted innocently. She had legal counsel the entire time, and is certainly not connected to the accusations the investigators made against her."

Bar-Yosef is also suspected of involvement in Israel's deal with Germany to buy three new submarines and on Thursday it was revealed his German business associate Herzog was involved as well.

According to information obtained by Yedioth Ahronoth, Herzog, who heads the private equity and investment fund IFC, sought to buy an abandoned shipyard in Portugal several years ago for 250 million euros. He explained to his board that this would allow him to own a naval company that could be used to acquire the manufacturers of technological equipment for submarines, and later secure a financial return on the investment from the Israeli government. The board, however, did not approve the deal.

Herzog declined to comment.

Tova Tzimuki and Shahar Ginosar controbited to this report.