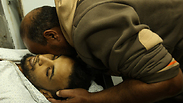 Relative mourns over his loved one's corpse
Photo: AFP
Advisory: Graphic content

Gaza's health ministry said that a 26-year-old Palestinian, Mohammad Abu Seada, was killed by soldiers in clashes along the border between the territory ruled by the Islamic militant group Hamas and Israel.

Another three Gazans taking part in the protests were also injured.

Abu Seada viewed in morgue (צילום: רויטרס)

The IDF said dozens of Palestinians breached the buffer zone, damaged the fence, threw rocks at soldiers, burned tires and "attempted to infiltrate Israel."


It said forces at the scene fired warning shots in the air to disperse them before shooting towards central rioters and that it is investigating the incident.

Dozens of protesters hurl rocks at Israeli soldiers every Friday along the border with Gaza.

The Associated Press, Elior Levy, Reuters and Yoav Zitun contributed to this report.