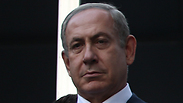 Photo: Ohad Zwigenberg
Photo: Ohad Zwigenberg
This week, it was revealed on Channel 10 that Prime Minister Benjamin Netanyahu's son Yair was hosted in the Tel Aviv Royal Beach apartment of family friend and Australian billionaire James Packer on weekends for a period of several weeks.

Packer inherited a media empire from his father and has also worked in internet advertising, though his professional undertakings have been focused largely on developing his gambling enterprise that includes casinos throughout the world. In recent years, he has visited Israel frequently and, until recently, he was in a relationship with the singer Mariah Carey with whom he came to Israel in the summer of 2015.

Raviv Drucker, the journalist who announced Yair Netanyahu's lodging arrangements, also revealed that a few months ago, Packer's lawyer, Jacob Weinroth, met with Interior Minister Aryeh Deri and asked him to use his authority to grant Packer permanent residency in the country. Weinroth, who at times also represents the prime minister, said that Netanyahu did not speak with him on the subject. The Ministry of the Interior has yet to provide an answer to Weinroth's request.

The Prime Minister's Office said in reply, "Mr. Packer is a family friend. Yair is a student at Hebrew University and lives in Jerusalem. He has the right to be hosted by friends and family friends outside the city from time to time."