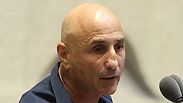 Gil Yohanan
Photo: Gil Yohanan
Ministers to debate bill to overhaul Security Cabinet following Protective Edge lessons
MK Ofer Shelah's bill would anchor membership in the Cabinet to a position, avoiding political appointments; the NSC would be more actively involved in providing information and training advisors; any member could convene the Cabinet, not just the PM; despite scattered support, uncertain if ministers will vote for the bill.
The Ministerial Committee for Legislative Affairs is expected to discuss on Sunday a bill put forward by MK Ofer Shelah (Yesh Atid) seeks to carry out a comprehensive overhaul of the way the Security Cabinet is run and composed.

This bill comes just two days after State Comptroller Yosef Shapira submitted the final draft of his report on the Israeli political and military leadership's handling of the Gaza tunnel threat before and during the 2014 Operation Protective Edge. Officials who read the report say it levels harsh criticism—compared to previous drafts—against the political leadership, including Prime Minister Benjamin Netanyahu and then-Minister of Defense Moshe Ya'alon.

The bill is being presented as a lesson learned from recent operations, particularly Protective Edge, when the Security Cabinet was assessed to be a weakened body whose ministers did not necessarily set policy. Shelah said that his bill as put together after the state comptroller assessed the Cabinet's performance in various operations and have judged it to be little more than a rubber stamp.

Shelah's bill would require that every member of the Security Cabinet be required to be trained before entering their position. They would also be required to commit to half a day per week as a member of the Security Cabinet in addition to their duties at the ministry that they head.

Further, an advisor would be appointed to every member or group of members who will be trained by the National Security Council. As such, there would be a professional person who aid and advise the members of the Security Cabinet, both during the meetings and during regular work.

The bill further stipulates that the Security Cabinet be convened on a monthly basis, not as needed, which is the current situation. Convening meetings would not just be limited to the prime minister; other members would be entitled to do so. The NSC would be the professional body that would collect and concentrate the relevant information for every meeting of the Cabinet. The members would be set by their position, and the composition would not change based on political appointments.

The bill is supported by some Likud ministers, but it is uncertain if they will vote for at the committee meeting. The Bayit Yehudi party also considers it a good draft, but they have not clarified if they will support it either.

"Experience teaches us that to make the necessary change, we need to change not only the behavior of the selected leaders at a given time, but also the formal definitions, and as a result, this must be anchored in Israeli law," said Shelah.