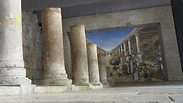 Cardo street
Photo: Eli Mandelbaum
Byzantine-era arch discovered in Old City
The arch is discovered during construction near the Hurva Synagogue and Cardo Street in the Old City's Jewish Quarter; MK Galant: 'To me, there is nothing more important or more exciting that connects the Jewish people to this place and I am excited to be a part of it.'
An ancient Byzantine-era arch was discovered during construction near the Hurva Synagogue and Cardo Street in the Jewish Quarter of the Old City.

The discovery occurred as a result of work being conducted on a project by the Company for the Reconstruction and Development of the Jewish Quarter. The project aims to demonstrate how life on the street looked 1,500 years ago.

Minister of Construction, Yoav Galant, arrived for a visit and tour of the Jewish Quarter and revealed the Byzantine arch for the first time to the public. "When you go through these places, you touch stones that have survived 2,000 years. You see places where Jews lived, prayed and bathed. To me, there is nothing more important or more exciting that connects the Jewish people to this place and I am excited to be a part of it."

Dr. Oren Gutfeld, the archaeologist who discovered the arch, explains, "In excavations under the Hurva Synagogue, we found relics that survived from the first and second temple period including the arch, which was from the 6th century and still intact today—it's an amazing thing. This place was used during the Mamluk period and the Ottoman period and the arch was incorporated into other buildings, which allowed for it to survive until today."