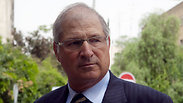 Attorney David Shimron. Must expose his clients
Photo: Ohad Zwigenberg
Prime Minister Benjamin Netanyahu will never sell Israel's security for money, Education Minister Naftali Bennett tweeted over the weekend in a bid to voice his support for the prime minister and his trust in his conduct in the German submarine purchase affair.

I have no difficultly joining this firm assertion. The Netanyahu I have been exposed to for decades, as part of my journalistic work, is undoubtedly working for Israel's security, out of deep recognition of its importance, without any ulterior motive or intention, Heaven forbid, to gain a financial reward.

The affair, which was exposed by journalist Raviv Drucker on Channel 10 News, has nothing to do with Netanyahu's decision to purchase additional submarines. What the public—and mainly a state commission of inquiry—should be looking into is the intolerable conflict of interests in the conduct of attorney David Shimron, Netanyahu's relative and representative on every issue, both personal and national.

Netanyahu, who often presents himself as a person who can identify almost every phenomenon in advance, every cloud on the horizon that might turn into a tsunami, is being revealed here as a weak, insecure figure, who is being exploited by his close associates. In other words, he was the last to identify the rot—or should I say the stench—in his own backyard.

Even before we knew that Shimron has been representing the Israeli contact to the German shipyard for years, several of the prime minister's closest advisors were questioned by law enforcement authorities: Perach Lerner, the Prime Minister's Office liaison to the Knesset; Ari Harow, Netanyahu's former chief of staff and bureau chief; Avriel Bar-Yosef, the former candidate for National Security Council head; Nathan Eshel, who was forced to leave the prime minister's bureau over sexual harassment allegations. And there is another advisor whose name will be revealed in the media in the coming days.

So what is happening in Netanyahu's office? We have been told that the prime minister forbids his assistants from discussing their business relations with him. Granted, they don't have to report their profits to him. But they come and go through the corridors of power. Everyone knows they are close to the prime minister, and this fact opens every door.

Now that this affair had come to light, integrity and good governance require Shimron to announce immediately that he is breaking off contact with the prime minister. If he fails to do so, it is Netanyahu's duty to show him the door.

I have tried in the past to point to the problematic connection between the Molcho-Shimron law firm and the Prime Minister's Office. "A family state," I called the connection, in which attorneys Yitzhak Molcho and David Shimron run the most sensitive state affairs on behalf of Netanyahu, while—according to senior legal officials—collecting clients who are interested in establishing contact with the state's authorities.

I must add immediately that it is the prime minister's right to use the services of these two lawyers, whom he trusts. But this requires Shimron and Molcho to disclose information on clients who may have requested their services simply because of their association with the prime minister.

Why does this require a state inquiry? The short answer to this question can be found in a prison cell in France. Before businessman Arnaud Mimran was jailed over fraud affairs involving hundreds of millions of euros, he exposed his relationship with Netanyahu (remember the pictures from their vacation together?) For those who have forgotten, Mimran transferred 40,000 euros to a foundation created to fund Netanyahu's political activity. The money was transferred, you guessed it right, through Shimron, who represented one of Mimran's companies in Israel.

A commission of inquiry must be appointed now, today rather than tomorrow, and it must not look into the submarines that Netanyahu believed were necessary for Israel's security, but into the ties with the empire represented by the Molcho-Shimron law firm. What did Netanyahu know and what was concealed from him is not a question that should be directed at the media. It is a question that should be directed at the prime minister himself.