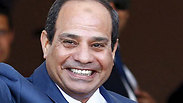 Abdel Fattah al-Sisi
Photo: Reuters
Report: Two assasination plots of Egyptian president thwarted
According to first conspiracy, al-Sisi was to be assassinated during a pilgrimage to Mecca; plotters also intended to murder Saudi Arabia's Crown Prince Muhammad bin Nayef; one of the terrorists offered his wife as a suicide bomber to divert attention away from al-Sisi's imminent murder.
Two reported assassination attempts by ISIS-affiliated terrorists against Egyptian President Abdel Fattah al-Sisi were recently foiled, according to a report by Egypt's state news agency MENA on Sunday.

According to the report, the attempts to assassinate al-Sisi were supposed to be carried out during pilgrimages to Mecca in Saudi Arabia and in Egypt itself.

The state prosecutor submitted indictments to a military tribunal against 292 people suspected of involvement in establishing 22 terror cells affiliated with the ISIS branch in Sinai. According to the Egyptian newspaper Al-Ahram, they received instructions from senior figures in the terror group.

The state prosecutor added that the assassination plot in Mecca included the involvement of workers in the local Clock Tower Hotel. However, the Egyptian president was not the only one on the terrorists' hit list. Indeed, the authorities allegedly uncovered plans which would include the assassination of Crown Prince of Saudi Arabia Muhammad bin Nayef.

The report states that that as part of the conspiracy to be implemented in Saudi Arabia, one of the indicted suspects suggested that his wife blow herself up with an explosive belt in order to divert the attention of security officials away from assassination al-Sisi to follow shortly thereafter.

The second plot is believed to have involved a cell of Egyptian police officers known as the "bearded officers," who were relieved earlier of their command positions.