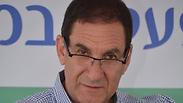 Ron-Tal
Photo: Meir Ohayon
Former IDF commanders against women in tanks
Maj. Gen. (res.) Yiftah Ron-Tal asserts in radio interview that 'Putting men and women together inside a tank is crazy,' noting that 'there is evidence that the purpose of this initiative is weakening the IDF'; Brig. Gen. (res.) Avigdor Kahalni argues: 'a woman's job is to be a mother, trauma of war will change her.'
Several former IDF commander have come out against a bill proposal that would result in the IDF integrating women in combat roles that are currently not open to them.
MK Merav Michaeli, a member of the Knesset Foreign Affairs and Defense Committee, introduced the legislation that would require the IDF to design a model to fill personnel needs regardless of gender.
"What the American armed forces are doing now is what the IDF was recommended to do ten years ago," said Michaeli. "Every day that goes by without exhausting human resources is a waste of quality manpower and motivation. Instead of giving female soldiers with high motivation every opportunity, the IDF is dragging its feet because of prejudice and pressure from rabbis."
Former IDF Ground Forces commander Maj. Gen. (Res.) Yiftah Ron-Tal slammed the proposal on Sunday, asserting that "Putting men and women together inside a tank is crazy."
Speaking to a radio station, Ron-Tal, who is the current chairman of the Israel Electric Corporation's board of directors, claimed that left-wing organizations were behind attempts to integrate women into combat positions.
"There was a study done a few years ago to see who was leading the significant and disproportionate integration of more women into combat roles in the IDF," he said. "Now it turns out that the people behind this initiative aren't even women's groups. It is left-wing organizations that are putting women at the forefront of their efforts."
He went on to claim that "there is evidence that the purpose of this initiative (to integrate women into combat roles) is weakening the IDF."
He later backtracked on that comment, with a Facebook post, saying "I may be vehemently opposed (to women serving in tanks)... but I apologize from the bottom of my heart if it was understood from my words that left-wing organizations are behind the move, out of the intention to weaken the IDF's power."
Ron-Tal, who wrote the order for the appropriate integration of women into the IDF, said in the radio interview, "I am vigorously opposed to this. I think it is a mistake, and not just a mistake, but a scandal which has the ability to harm everything, including the IDF's abilities."
According to Ron-Tal, "The IDF is a people's army and as such, it is true that everyone should serve, and it is important to allow every group to serve. In my eyes, it will be very damaging to the abilities of religious soldiers to serve and preserve their basic values and morals. Putting men and women together in a tank is colossally crazy; I don't have a more subtle expression."
Ron-Tal added, "Even submarines don't have men and women together and there are a number of other positions that don't accept women. Overall, more than 80 percent of positions in the IDF are open to women and I think that is fine. For the record, women are already in the armored corps. In the 460th Brigade, women are tank instructors—I made this happen."
In regards to why exactly women would encounter difficulties as combat soldiers in the armored corps, Ron-Tal said, "There is physiological harm to women from being in a tank. I conducted a study with the US Army on female combat soldiers in tanks. Where is all this craziness coming from? There are a lot of female combat soldiers in the US armed forces, but not in tanks. There is no such thing as men and women together. A woman who has to wear the vests that men have to wear can suffer serious bodily injury that can affect her for the rest of her life."
Brig. Gen. (res.) Avigdor Kahalani, a former minister, also objects to integrating women into combat roles in the Armored Corps.
"I think it's a mistake. I also think it won't happen," he told the same radio station on Monday. "There's no reason in the world to take women and have them charge into the trenches of the Beaufort Castle (in Lebanon) with a knife between their teeth... there are enough men to do this job."
He rejected the issue of the physical differences between men and women; focusing instead on the mental toll an injury can take. "A girl coming out of a war, some of the wars I've been through, she'll have a completely different mental damage," Kahalani said. "Besides, just thinking about seeing women injured in war in the way some of my soldiers were, it's horrifying to me."
He explained that "When I was injured, I was burned and I couldn't get out of the tank and I was calling out one thing: 'Mom!' ... I think a woman's job is to be a mother and bring children into the world and I think that after enduring the trauma of war, she'll be completely different. A mother's instinct, a mother's embrace, that ability to bear children and breastfeed—it wouldn't be the same, I have no doubt about that."
He asserted that while the integration of women into more roles in the army was a good thing, "anything that requires pulling the trigger and killing a man is the kind of thing men do. What can you do about it?"
He also argued that there are greater chances of being killed or injured in the Armored Corps and the Infantry.
However, not everyone would agree with Ron-Tal and Kahalani. Brig. Gen. (Res.) Yigal Slovik, the former commander of the 52nd Battalion and the 401st Armored Brigade, also studied the issue.
"After a meeting with the Marines, I realized that Israel is lagging behind many western armies in regards to opening combat positions for women. Women can reinforce ground forces, especially armored forces."
In regards to the physical challenges female soldiers would need to endure, Slovik believes the IDF can make the necessary adjustments. "If a woman can fly a jet or command a ship in the Navy, there is no reason she can't command a tank. She doesn't need to be a loader, but she can be a gunner, a driver or commander. In any case, the army should adapt itself to the idea. You can find a thousand reasons why not, but everything has a solution if we want it to."
Yossi Yehoshua contributed to this report.