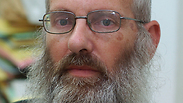 Rabbi Eyal Karim
Photo: Bamahane
Following High Court decision to delay appointment of IDF chief rabbi, inauguration ceremony postponed
The decision to delay the appointment comes after numerous politicians and organizations spoke out against the inflammatory comments made by Karim; IDF later confirms the appointment ceremony to be delayed; Judge Neal Hendel: 'We want to hear what he has to say and what he really thinks. That is all we are asking at this time.'
The High Court of Justice issued a temporary injunction on Monday delaying the appointment of Col. Eyal Karim to the post of Chief Rabbi of the IDF following past remarks he made against homosexuals and women and permitting soldiers to refuse orders, requesting him to file a deposition clarifying his past comments and his current positions.

The ceremony inducting the IDF Chief Rabbi was scheduled for Wednesday but it was later confirmed that it would be postponed by the IDF.

During a hearing on a petition filed by the Meretz party against the appointment, Chief Judge Miriam Naor, said, "We want to hear what he has to say. What his position was then, what it is now and if he has changed his mind."

During the hearing, Naor raised "a hypothetical question—let's say an army rabbi can say it's okay to rape women during war, would the Chief of Staff still appoint him? Let's assume that the candidate wrote it and he doesn't deny it, he just says 'that's my opinion.' The question becomes the matter."

Judge Neal Hendel said Karim needs to decide where he stands. "We want to hear what he has to say and what he really thinks. That is all we are asking at this time," he said.

"The statements made are shocking to say the least," said Judge Salim Jubran during the hearing.

The IDF Spoksperson's Unit added that Karim will offer a prepared statement, explaining his inflammatory comments to the High Court, despite right-wing repesentatives who urged him not to do so.

Uri Keidar, representing Meretz, said, "The IDF chief rabbi provides religious services to those serving and the position is a symbol of morality and ethics, like the president of the state. You demand more from a person whose job it is to give people motivation and spiritual support. A person in that role should be more of an example to others."

When asked about his opinions concerning homosexuality, Karim commented in the past that gays and lesbians should be treated with love and support, but also referred to them as "sick or deformed," saying they "must be helped to escape their situation, with a lot of sensitivity and patience."

The rabbi gave a more shocking answer when asked if soldiers were permitted to rape women during war. Karim replied that, as part of maintaining fitness for the army and the soldiers' morale during fighting, it is permitted to "breach" the walls of modesty and "satisfy the evil inclination by lying with attractive Gentile women against their will, out of consideration for the difficulties faced by the soldiers and for overall success."

Officials at the IDF's Chief Rabbinate were surprised by the High Court's decision. "Rabbi Karim has finished his training with (current Chief Rabbi) Peretz, and is confident that just as the IDF chief was convinced by his stately positions, which match the IDF's values, so will the judges of the High Court, who will approve the appointment even before Wednesday," one official said.

The official went on to claim that "the remarks attributed to Rabbi Karim were distorted and taken out of context and the issue had already been resolved between Karim and the IDF chief."

A forum of former IDF rabbis also condemned the court, saying "This is a bad decision that will be remembered as disgraceful. There's no end to Meretz's abuse of any Jewish characteristic in the IDF. In a biased manner, they took the rabbi's words out of context and distorted them. It's very regretful that the High Court's judges are cooperating with these elements who seek to weaken the military rabbinate while also weakening the entire IDF."

Agriculture Minister Uri Ariel (Bayit Yehudi) came out in Karim's support, saying "Dear Rabbi Karim, don't allow this attempt to silence you and don't go back on halachic rulings you believe in."

After Karim was announced as the intended new IDF chief rabbi, members of Knesset and women's rights organizations called for the decision to be revoked. The head of the Knesset Committee on the Status of Women and Gender Equality, MK Aida Touma-Sliman (Joint List), said, "Col. Karim's ruling on permitting raping non-Jewish women is similar to the fatwa of a murderous organization that's not so far from Israel's borders. I will contact the attorney general and oppose the appointment, and I call on female and male members of Knesset to join my request."