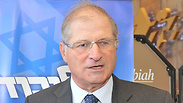 Attorney David Shimron
Photo: Yaron Brenner
Opposition calls for comprehensive probe into submarine deal
After the discovery that Prime Minister Netanyahu's lawyer David Shimron also represented businessman Miki Ganor in a deal made to purchase three submarines from a German shipyard, opposition leaders and MKs issue statements criticizing what has been described as an apparent conflict of interests; MK Shelly Yachimovich lambasts Netanyahu for harming 'the livelihood of Israeli dock workers,' while Opposition Leader Isaac Herzog warned of 'severe damage to IDF workers and even the IDF's intelligence security.'
A day after the attorney general and state attorney said there was no suspicion of criminal wrongdoing in Israel's submarine deal with Germany, leaders in the opposition called on Monday for a more comprehensive investigation.

It recently came to light that Prime Minister Benjamin Netanyahu closed a deal to purchase three new submarines for the Israeli Navy from a German shipyard, despite objections from many in the defense establishment—including former defense minister Moshe Ya'alon.

The affair became even more entangled when the prime minister's personal attorney, David Shimron, was discovered to have also been representing Miki Ganor, an Israeli businessman who mediated the deal with the German shipyard that is to build the submarines, which lead to suspicions of a conflict of interests.

"For three days now, I have been witnessing an attempt to make the submarine affair disappear, but this won't work," said Yesh Atid Leader Yair Lapid. "This isn't a political story. This is a toxic and dangerous mix of savvy lawyers and the IDF, our soldiers, our sons, our security."

Lapid went on to argue that "Those who buy submarines end up not buying reinforced APCs or the 'Trophy' protection system for tanks, or Iron Dome batteries or bulletproof vests. It comes out of the same budget. And when making such decisions, the considerations need to be clean of any foreign influences. When such decisions are made, the prime minister's work environment must be the most transparent it can be."

Lapid questioned Netanyahu's claim that he did not know that his attorney was also representing Ganor. "If the prime minister didn't know anything, that's very wrong," he said.

"This issue needs to be investigated. Why didn't attorney Shimron say anything to the prime minister? Why was this kept from the cabinet and members of the Foreign Affairs Committee? How much money did he get? What was he paid for? Why did they choose to hire him, specifically? No one hires the prime minister's personal attorney to promote the biggest security deal in Israel's history unless they're convinced they have something to gain," asserted Lapid, who was a cabinet minister at the time the deal was struck.

"Shimron has been working with them for six years. What did they get out of it? What commission did Miki Ganor's company get?"

The German business newspaper Handelsblatt published an investigation on the case, in which it estimated that Ganor is expected to earn anywhere from 10 to 30 million Euro (or NIS 123 million) from the Israeli submarine deal between Israel and the German shipyard company, with Shimron acting as Ganor's legal representation in the deal. The newspaper's investigation found that the deal is estimated to cost 4.5 billion Euro, and the the German government has agreed to fund one third of it.

ThyssenKrupp—the multinational corporation that manufactures the submarines in question and is represented in Israel by Ganor—responded to the investigation. The company claimed that Ganor is its sole representative in Israel, and that he had breached the terms of his contract with them when he involved Shimron in the proceedings.

Sources within ThyssenKrupp told Handelsblatt that Ganor's commission on the deals he was involved in could reach 2% of their sum total, and that Shimron indeed came to one of Ganor's meetings with ThyssenKrupp representatives. Despite this, the sources claimed that ThyssenKrupp does not at present have concrete evidence of wrongdoing by Ganor, though the company has issued a statement saying that following Israeli reports, it will launch an investigation of its own into the matter.

Opposition leader Isaac Herzog (Zionist Union), for his part, also reponded to these suspicions on Monday, saying that he intends to raise to a vote at the Knesset a request to launch a parliamentary inquiry commission to investigate the submarine affair.

"I call on all Knesset members to vote in favor of finding out the truth," he said.

Herzog addressed a letter written by the head of the IDF Workers Union and obtained by Yedioth Ahronoth, which details a meeting he and Avi Nissenkorn, the head of the Histadrut Labor Federation, had with Shimron and Ganor, who tried to pressure them against trying to foil the efforts to outsource the submarines' maintenance work to the German shipyard.

"This morning, Yedioth Ahronoth uncovered a letter written by IDF Workers Union Chairperson Moshe Friedman that exposed the severe and consistent pressure that those close to Netanyahu used in an effort to transfer the new submarines' possesion out from the IDF Navy to the German shipyard. The entire affair warrants an examination and investigation by all the relevant parties, including the state comptroller and attorney general. If there is any truth to his letter, it constitutes a case of severe damage to IDF workers and even the IDF's intelligence security," added Herzog.

Zionist Union MK Shelly Yachimovich also commented on the meeting between the labor union heads and the representatives of the German shipyard, saying "this meeting is horrifying and reminiscent of a scene from 'House of Cards.'"

Yochimovich added that "According to IDF Workers Union Chairperson Moshe Friedman's detailed and credible account, Shimron placed a (proverbial) gun on the Histadrut Labor Federation Avi Nissenkorn's table, and politely advised him to surrender in advance instead of fighting for the livelihood of Israeli dock workers, since the Defense Ministry will nonetheless send down a decree to transfer the work over to the German shipyard."

"This business meeting, which would have never come about if it hadn't been for Shimron's complete classification as an extension of Netanyahu's, is one of many details that the attorney general must immediately investigate, since there are already top and credible officials who will testify to the way Shimron conducted his private businesses while using the security intel he possessed simply due to the time he spent with the prime minister, as he waved around his powr and abilities."

MK Merav Michaeli (Zionist Union) tweeted her own response to the report. "While Shimron's closing deals with German submarines, his partner (Isaac) Molcho is acting as the prime minister's mouthpiece when dealing with the German government. Doesn't this constitute the appearance of a conflict of interests, Mr. attorney general?"

Prime Minister Netanyahu, who toured Be'er Sheva earlier in the day while accompanied by foreign journalists, said that "There are those who always insist on tranishing Israel. There's what I call 'the industry of depression'—constantly saying how bad things here are. They are also those who constantly throw around wild accusations, but these accuations fall as fast as they are thrown. Take it easy, you can calm down. I'm going to be here with you for a long time."

Netanyahu added that "If you want to convince the public—present your own positions. The public will be the judge. This is how a democracy works. We will continue deidcating our time to fortifying Israel's security, developing its economy and ensuring its welfare."

Ran Abramson from Calcalist contributed to this report.