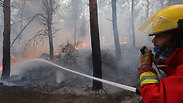 Firefighter works to extinguish blaze
Photo: Gil Yohanan
Homes catch fire in Zikhron Ya'akov, authorities work to battle multiple fires
Entire town evacuated and homes catch fire as firefighters and rescue teams struggle to contain huge flames sweeping across Israel; fire services manage to extinguish the inferno in Atlit as the battle in Zikhron Ya'akov continues; weather forecasts warn that fires could intensify with expected winds of over 100km/h in coming days.
Firefighters and rescue teams were called to battle multiple fires which erupted throughout Tuesday, wreaking havoc across a number of different towns in Israel.
Zikhron Ya'akov fell prey to a raging fire in the afternoon in the Givat Eden neighborhood which threatened to thrust its ways toward residential buildings. One school was evacuated after a giant pall of smoke blackened the area while a number of buildings were also reported to have caught fire.
Eight people suffered smoke inhalation from the fire in Zikhron, among them a 10-day-old boy, seven-year-old girl, a four-year-old boy and a one-year-old girl, who were evacuated to the Hillel Yaffe Medical Center, and four others—a 42-year-old woman, a 32-year old man, a seven-year-old boy and a 2.5-year-old girl—who received treatment at the scene. They were all in light condition. Several other were taken to the hospital throughout the course of the day.
Fires break out in Zikhron Ya'akov (צילום: מועצה אזורית חוף הכרמל)
Another fire simultaneously broke out in the coastal town of Atlit near Haifa prompting rescue teams to evacuated 200 children from a school dangerously close to the looming flames.
Hundreds of residents of Neve Shalom, near Latrun, were evacuated earlier from their homes following a forest fire raging in the area. The fire broke out overnight Monday and rapidly spread due to strong winds in the area. There are no reported injuries thus far.
Throughout Tuesday morning 60 teams of 140 firefighters, accompanied by aircraft, were still working to put out the blaze. While not all the fires had been extinguished by the morning, firefighters did manage to contain the flames in several areas.
Firefighters battle with raging fires (צילום : גיל יוחנן)
Beit Shemesh Station Commander, Reuven Yitzhak, told Ynet that the cause of the fire is not yet known, but the difficult weather conditions and terrain have caused it to spread. Officials worry that dry conditions, unseasonably warm temperatures and strong winds will cause additional fires to break out.
As a result, Shimon Ben-Ner, Commissioner for Fire and Rescue, issued an order prohibiting the lighting of fires in open areas throughout the country, except for the areas south of the geographic line of Highway 25.
A spokesman for the Jerusalem District Police said that firefighters have succeeded in preventing the flames from reaching another nearby community where 270 people live. Firefighting efforts are currently concentrated in two main areas, Eshtaol Forest and the area near Taoz.
Jerusalem District Fire and Rescue Chief Nissim Twito said, "Jerusalem-area firefighters, with the assistance of other forces throughout the country, are currently fighting to put out a large fire that is endangering the outskirts of Neve Shalom. Our main objective at the moment is to control the fire and protect the homes of the community. We are working as fast to possible to minimize all damage to the forest and nature."