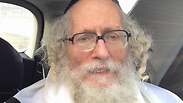 Rabbi Berland sentenced to 18 months in prison
Courts accept a plea bargain presented by Berland's defense team which saw one of the leaders of the Breslov Hasidic community sentenced for sexual assault; Berland: 'I sincerely regret, from the bottom of my heart, all that I have done to harm a man or a woman.'
Rabbi Eliezer Berland, a leader of the Breslov Hasidic community, was sentenced to 18 months in prison for a number of sexual assaults on Tuesday afternoon following a plea bargain reached between the courts and his defense team.

Moments before the Jerusalem Magistrates Court approved the plea bargain, Berland expressed his regret for his actions and requested forgiveness from his victims.

In doing so, he quoted from the week's Torah portion 'Vayesehv' from the book of Genesis in reference to the Yehudah's sexual transgressions against Tamar: "What I have admitted I have admitted and I have no further business with women," He said. "I ask for forgiveness from the entire people of Israel."

He went on to say that nothing could detract from the severity of his actions. "I sincerely regret, from the bottom of my heart, all that I have done to harm a man or a woman, I regret every harmful act that was caused by me, whether directly or indirectly. My regret is sincere," Berland said.

The women who filed complaints against Berland opposed the plea bargain reached by the courts and his lawyers and called on the justice system to disregard the plea and to impose a stricter sentence.

79-year-old Berland had founded the Shuvu Banim Yeshiva in Jerusalem and is considered a leading figure among the Breslov Hasidic community. In 2012, one of his followers claimed to have seen him in a compromising position with a girl from the local community.

The man was beaten by his other followers, which brought the incident to the police's attention. The ensuing investigation gathered testimonies from several women, accusing him of sexual misconduct.

Berland had fled from Israel to Morocco in 2013, after being requested to make himself available for police questioning on suspicion of sexual misconduct. King Mohammed VI expelled Berland from Morocco, and from there he travelled to Zimbabwe, the Netherlands, and South Africa.

He landed in Israel in July after being extradited by the South African authorities. Upon exiting the plane, he was arrested by Israel Police officers who were awaiting his arrival and who took him for investigation.