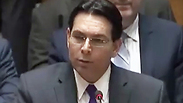 Israel has accused Iran's Islamic Revolutionary Guard Corps (IRGC) of using commercial airline flights to ship weapons to Lebanese Shi'ite Muslim group Hezbollah.

In a letter to the United Nations Security Council on Tuesday, Israeli Ambassador to the UN Danny Danon accused Iran of using airlines such as Mahan Air for this purpose. The United States has sanctioned the Iranian carrier for providing services to the Quds Force, a special forces unit of the IRGC, as well as Hezbollah.

Iran's mission to the United Nations and Mahar Air were not immediately available to comment on the accusations.

Danon wrote that Quds Force officers pack arms and materiel into suitcases that are transferred to Hezbollah either by commercial flights to Beirut or commercial flights to Damascus in Syria, and then transferred by land to Lebanon.

"It is clear that Iran is still the primary supplier of arms and related material to Hezbollah, in blatant violation of numerous Security Council resolutions," Danon wrote. "The Security Council must condemn Iran and Hezbollah for the violation of its resolutions."

Danon's letter to the 15-member Security Council did not offer any evidence to support his accusations.

The charge may add fuel to the debate about the agreement among Iran, the United States and five other nations to remove some of the economic sanctions on Tehran in exchange for restraints on the country's alleged nuclear weapons program.

UN Security Council missile restrictions and an arms embargo on Iran are not technically part of the nuclear agreement.

US President-elect Donald Trump and several of his national security appointees have criticized the nuclear deal and charged that it does not do enough to halt the Islamic Republic's support for terrorism.

"Stop all engines on this nuclear deal. Take a step back. Really take a deep-dive look at everything going on in the Middle East," former Defense Intelligence Agency head Michael Flynn, Trump's choice for national security adviser, said in a Fox News interview in March.