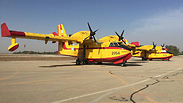 Firefighting aircraft arrives from Greece
Four firefighting aircraft arrived in Israel on Thursday morning from Greece and Cyprus to aid in the battle against the blazes that have been plaguing the country for the past three days.

The four planes—an Air Tractor from Cyprus, two Bombardier 415 aircraft from Greece and a Hercules plane also from Greece—arrived with 49 crew members.

The firefighting aircraft are expected to join the battle against the blazes after quick preparations, coordination and a briefing.

Additional planes are expected to arrive from Croatia, Italy, Turkey and Russia later in the day, including two Russian-made Beriev Be-200 that can land on water and carry 12 tons of fire retardant. The Beriev Be-200 also assisted in putting out a fire on the Carmel Mountain six years ago.

The Russian Beriev Be-200 in action

The rest of the aircraft are also relatively large and can carry some 10 tons of fire retardant. Their size will also help them fly through the strong winds.

Prime Minister Benjamin Netanyahu and Public Security Minister Gilad Erdan decided on Wednesday to turn to other nations for help due to the concern Israel's existing squadron of 14 firefighting aircraft would not be enough to deal with the fires on Thursday that are bolstered by winds that are expected to reach 70 km/h.

During a visit to a control center near Zikhron Yaakov on Wednesday, Netanyahu mentioned the Carmel disaster, saying "We've been in this situation six years ago, when we had dozens of planes in the air here. Today, since we have our own squadron, the need is not as big, but there is still a need. Some of our neighbors have already received assistance from us, so this is natural reciprocal relations."

He also implied that some of the fires may have been a result of arson, even though so far investigations have focused on weather hazards and human error.

Police detained four contractor employees on Wednesday who were working on the paving of road near Nataf in the Jerusalem Mountains, where a big fire broke out. They are suspected of lighting a bonfire that got out of control. They have since made bail.

In addition, an initial investigation into the fire at the Neve Yair IDF base in the Binyamin region raised the suspicion that a soldier failed to put out his cigarette.

On Wednesday, 220 fires were reported across the country, 189 of them in open areas.

Unfortunately, no good news is on the horizon. The strong winds are expected to become stronger in the next few days, reaching speeds of 60-80 km/h, while the dry weather is expected to worsen, with humidity dropping to 5-10 percent—both will bolster the fires.

Itamar Eichner, Roi Yanovsky, Amir Ben-David, Meir Turgeman, Eitan Glickman contributed to this story.