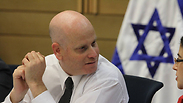 Eyal Yanon
Photo: Gil Yohanan
Race against time to prepare New Amona
The outpost is to be evacuated in a month, its residents sent to temporary housing; AG working to prepare nearby alternative land for a quiet-as-possible evacuation; Knesset's legal advisor warns strongly against Regulation Bill, calls it a 'minefield' and a bad precedent.
At one month before the expected eviction of Amona, the attorney general's office is working at full strength with the goal of preparing alternative land near the outpost for the evictees to live in, all in an attempt to make the evacuation as pleasant and violence-free as possible.

Attorney General Avichai Mandelblit has been holding talks leading up to the evacuation of Amona, which is expected to take place at the end of December. However, at the request of the government, which would like the evacuation carried out without bloodshed or too much media attention, Mandelblit with propose an alternative nearby community.

The attorney general is working on two levels simultaneously. The first is to find a specific alternative to Amona according to the formula of absentee property—i.e., developing lands nearby the outpost for the evacuees to inhabit. The second is finding a solution to all settlement lands disputed in what is known as "the Cyprus model." This model proposes implementing in all the other settlements a legal mechanism to clarify disputes of land-ownership.

The Knesset, for its part, is continuing to work on the "Regulation Bill" that is intended to completely legalize Amona, thus getting around the High Court of Justice's evacuation order, against Mandelblit's recommendation. The Knesset's Legal Advisor Eyal Yanon, supported the attorney general's position, warning the parliament that passing that legislation is "walking in a minefield" with serious consequences with international legal ramifications and that could also endanger the settlement enterprise, being considered annexing territories.

"Can the Knesset legislate in Judea and Samaria? Official Israel has slipped through the cracks. It hasn't accepted that the territory as occupied territory in the classic sense." According to him, until now the state has never subjected the Palestinian public to Knesset legislation. But his opinion is that the Regulation Bill, which he considers unconstitutional, changes the rules of the game.

Speaking to the Knesset's Constitution, Law and Justice Committee on the bill, Yanon said that it "is sailing outside of known territorial waters, wand one should examine how to return it safely to shore." He added, "It raises the question if this is not de facto annexation," and warned against setting the precedent of the Knesset legislating a law that the Palestinians, who are not eligible to vote for Israel's parliament.

Yanon also addressed an additional "mine": the attempt to solve the problem of Amona with a law and prevent an evacuation that was ruled on by the High Court of Justice. "The mine arises by virtue of retroactive applicability," he said.