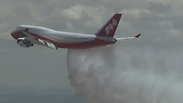 The largest firefighter aircraft in the world will be landing in Israel within the next 24 hours to help the country battle the fires which have engulfed a number of cities and towns over the past few days.

The new plane, the Boeing-747 Supertanker only became operational half a year ago and is considered the cream of the crop of aerial firefighters in the world. Not only is it capable of carrying 74 tons or water or flame retardant, but its unique engine enables it to generate pressure which causes a rainstorm effect by the water or flame retardant released.

Supertanker

Israel contacted the American company Global SuperTanker, which operates the aerial firefighter, to look into the possibility of it being flown to Israel. Indeed, a supertanker previously owned by the company Evergreen before it went bankrupt was flown to Israel to assist in the 2010 Carmel Forest Fires.

Currently situated in Colorado Springs, the plane can release eight rounds of the the water and the flame retardant.

Prime Minister Benjamin Netanyahu explained why the fire fighting sky giant is of paramount importance given the current circumstances.

"It needs to be understood that the firefighting planes currently being used are not able to operate overnight. There is only one plane that has this ability, and that is the Supertanker," Netanyahu said. "I instructed that it be brought here. It will take 24 hours to come from the US. We only use it in extreme situations. We don't use it for everything but I prefer that we have too much rather than too little."

In addition to the Supertanker, the Foreign Ministry was instructed to approach as many countries as possible with the view to retrieving as many planes as possible.

Among others, France and Portugal were approached. The former announced that it would send two more planes on Friday morning. Russia also announced that it would send two additional planes to the two expected to arrive on Thursday night. The third Russian plane is capable of carrying 50,000 cubic meters of water. The Ukraine will also send two firefighter planes while Azerbaijan has pledged to send one.