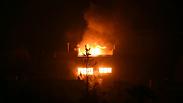 Haifa Thursday night
Photo: Avihu Shapira
First arrest for incitement to arson, others arrested for starting fires
Israel Police arrest arson suspects across the country; the first person arrested for incitement to arson is the son of a senior member of Islamic Movement in Israel who called on Facebook to ignite the brush which had not yet begun to burn.
Israel Police detectives in the Negev arrested a 24-year-old man from Rahat in the south of the country for inciting to arson on Facebook, along with more than a dozen others who were arrested across Israel on suspicion of arson in the current wave of fires raging across Israel.

The Rahat man is the son of a senior member of the Islamic Movement in Israel. He called on Facebook for youths to ignite forests, posting, "There are some thickets that haven't caught on fire yet," and that one "needs to call on the disruptive ones of our young people who will do what needs to be done."

The arrest was made possible due to coordination with the state prosecutor's office, which authorized the detention of inciters on social media. The 24 year old is to be brought to the Be'er Sheva Magistrates' Court on Friday to extend his remand. Minister of Public Security Gilad Erdan (Likud), who called for taking action against inciters, said on Friday morning, "We're under the terrorism of the arsonists."

Overnight blaze Thursday (צילום: דוברות כבאות והצלה מחוז צפון)

The mother of the arrested Rahat man said, "Last night, police forces came to our home and arrested my son because of a post that he wrote on Facebook. My son has no connection to the fires that are taking place across the country. He's also at work and has good relations with everybody and doesn't think bad things. I hope that he'll be released and be returned to his family's fold."

The police have arrested more than a dozen suspects for incitement across the country. Amongst those was one in the West Bank, three in Sajur in the Galilee and one in Atlit, south of Haifa, who had a charcoal lighter.

Israel Police Deputy Commissioner Zohar Dvir updated Ynet, "The investigation is ongoing. Evidence is being gathered from across the country…I believe that in the end, it will be translated into a number of indictments. In some places, early preparations were identified and arson was prevented on the scene."

Interior Minister Aryeh Deri spoke with Ynet of the possibility of revoking the residency or citizenship status of those who committed arsons for nationalistic reasons. "I'm in the middle of a process with everybody who was caught here. An ISIS activist, for example, who committed a terrorist attack—in my view, even if he didn't succeed and didn't murder, but he had the intention to murder, I'm going for revoking citizenship because I think that there's no place for somebody like that who acts for nationalist reasons to kill innocent civilians."

The minister added, "Whoever was standing yesterday at (Haifa's) Filman Hospital and saw how they were taking out helpless people on respirators—and somebody started a fire there, he can't be a citizen of this country."

Eli Senyor, Roi Yanovsky, Ahiya Raved and Yoav Zitun contributed to this story.