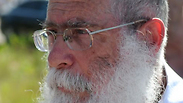 Rabbi Elyakim Levanon
Photo: Gur Dotan
Safed Chief Rabbi Shmuel Eliyahu, posted a ruling on Jewish law on Friday morning that permits shooting Arabs who are trying to cause fires, even if this were to violate Shabbat. Another leading rabbi explained Thursday that the country's fires were divine punishment for delays in the "Regulation Bill."

Eliyahu answered a question that had been posed to him asking if Shabbat could be desecrated to stop, report or shoot Arabs trying to light fires near the questioner's home. The reply read in part, "The prime minister described the arson as terrorism. One of the heads of the Shin Bet called it a weapon of mass description. It's a miracle that people weren't burned alive, but we don't rely on miracles. It's certainly permitted and required to violate Shabbat to stop the fire and the arsonists. And if necessary, also to shoot them."

Eliyahu continued, "If in Beit Me'ir, Carmiel or Haifa they had shot the arsonists, we would have been spared from this disaster. I hope that the chief of staff and the police commissioner will give clear instructions to soldiers and police officers and citizens drawn from the fact that the fires have not finishes, and it is their responsibility."

Thursday night, Samaria Regional Council Rabbi Elyakim Levanon did not seem to believe that shooting arsonists could quench the flames. He posited that the dry weather and the fires that have broken out across the country as a partial result are divine punishment for the intended evacuation of West Bank settlements, such as Amona.

In his own publication, Levanon, another leading figure in Religious Zionism and on the right, wrote, "Anybody with eyes and brain in his head can see how the country thirsts for water. We're at the end of the month of November according to the Gregorian calendar, and there's still no sign of rain… strong winds… everything is dry, flammable, burning!"

He explained, "The hand of God is doing this" because "the Israeli government is delaying the passage of the Regulation Bill."

Levanon explained how the curse of conflagrations could be averted: "Until the shame of the threat of destroying the settlements in the Land of Israel, in Amona, in Ofra and in many other places is not removed, there will be a drought! The day that the decision is taken that can't be gotten around with legal wrangling—that very day the rains of blessing will begin to fall."