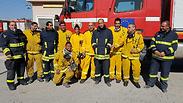 Palestinian firefighters
Photo: Omri Efraim
Eight firefighting brigades form the Palestinian Authority came to Israel overnight Thursday to help the local firefighters battle the blazes in Haifa and Sha'ar Hagai, the first time that Palestinian firefighters have crossed into Israel to offer professional assistance since the Carmel fires in 2010

About 20 Palestinian firefighters came after the PA offered their help, the very first extra-Israeli source to do so. Suhail Abed, a firefighter from Qalqilya who serves in the Jenin area, said, "From our point of view, above all saving lives is what leads us, and so we decided to come. Our motivation is very high, and we're happy to give help and human assistance." He said that firefighting cooperation was also taking place in the West Bank, but there, the fires were more under control.

Palestinian firefighters outside of Jerusalem

Egypt and Jordan also offered to aid Israel in fighting the fires raging in the country on Friday morning. Prime Minister Benjamin Netanyahu accepted both their offers. Egypt is sending two firefighting helicopters, and Jordan is sending fire trucks.

In Haifa, an IDF officer and a Palestinian firefighter worked shoulder-to-shoulder. The officer, Lt. Col. Samir, who was escorting the Palestinians for the Coordinator of Government Activities in the Territories (COGAT), is already used to similar collaboration in Samaria. "They show motivation and good will, and it's what we also see in the field," he said.

Samir added, "They always ask to receive the first assignments. We're used to collaborating like this; normally we're helping them. Just a few days, there was a big fire in warehouses in the Barta'a area, and Israeli teams went in to help the Palestinian teams in the area."

MK Ayman Odeh (Joint List), a citizen of Haifa whose home was not damaged by the fires lauded the overall cooperation of Jews and Arabs in fighting the flames. He told Ynet Friday morning, "I don't remember times when there was such rallying across (Israeli) society, both among Arabs and among Jews. It's something that warms the heart. I see that there is a shared concern. I see how the Arab neighborhoods opened their homes to Jews. I also saw Jewish, Arab and Palestinian-Authority firefighters."

Responding to assertions that some of the fires were caused by arsonists acting out of nationalistic motives, Odeh commented, "There are also fires in Umm al-Fahm and also in Abu Sinan. If it turns out that some despicable, pathetic person, Arab or Jew, did this, he must be punished harshly and strongly condemned. The main thing now is to find the unity to rally together to put out the fires."

Odeh added, "I'm sorry that the politicians and one prime inciter are talking about a wave of terrorism. Six years ago, too, they blamed the ultimate accused, the Arabs, and afterwards everybody understood that there was no arson. It's only in dark periods that the minority is accused without investigating.