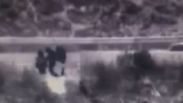 Security camera footage captured three men committing an arson attack near the city of Ariel in the West Bank. Due to the terrain, the fire did not catch quickly and spread, and area residents were able to extinguish it before serious damage was caused.

A search for the suspects is currently underway.

Footage of the attempted arson

Mayor of Ariel, Eliyahu Shaviro, said, "Thanks to the vigilance of residents, the fire was immediately put out. The city is on alert in order to provide assistance locally and to any other area."

Currently, police have arrested 14 suspects on suspicion of arson and incitement to commit arson. Detectives in Rahat arrested a 24 year-old man who is the son of a senior official in the Islamic Movement on suspicion of incitement to arson after several Facebook posts by the man instructed young people to start fires.

The mother of the suspect said, "Last night, police forces came to our home and arrested my some because of a post that he wrote on Facebook. My son has no connection to the fires that are taking place across the country. He's also at work and has good relations with everybody and doesn't think bad things. I hope that he'll be released and be returned to his family's fold."