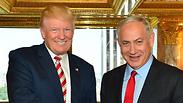 Trump and Netanyahu
Photo: Kobi Gideon, GPO
Donald Trump's presidential victory has dimmed hopes for reviving the Israeli-Palestinian peace process, and analysts say Israel may be given carte blanche from his administration.

American presidents have long struck a delicate balance in the conflict, stressing the close US friendship with Israel and lavishing the Jewish state with aid. But recent presidents also have tried to negotiate, and they have called out Israel for actions seen as undermining peace efforts, such as expanding settlements in the occupied West Bank.

Trump's role can't be easily predicted.

A foreign policy novice, the billionaire businessman takes pride in his deal-making skills and says he'd love the challenge of negotiating a Mideast agreement. He told The New York Times on Tuesday that it "would be such a great achievement." He said his son-in-law, Jared Kushner, an observant Jew and a close adviser, may help make that happen.

Last December, Trump told The Associated Press that he wanted to be "very neutral" and try to get both sides together. But his tone became decidedly more pro-Israel as the campaign progressed. He has spoken disparagingly of Palestinians, saying they have been "taken over" by or are condoning militant groups. Some of his top aides challenge the legitimacy of Palestinian demands for a state and have claimed that the Palestinians are a made-up people.

That has cast doubt on whether he would ever question Israeli actions or even try to serve as a neutral broker.

"Trump's administration may take a totally hands-off approach," said Yousef Munayyer, a political analyst and executive director of the US Campaign for Palestinian Rights. "Israel would have free rein to dominate the Palestinians forever and ever if there is no external involvement."

David Makovsky of the Washington Institute for Near East Policy said the volatility of the Middle East and of American political parties after a grueling campaign have made "the conclusion of a two-state solution very unlikely."

Some senior Israeli officials share that view.

Cabinet Minister Naftali Bennett, head of the pro-settler Bayit Yehudi party, said after Trump's Nov. 8 election that "the era of a Palestinian state is over." Defense Minister Avigdor Lieberman suggested Israel could cut a deal with Trump that allowed expanded construction in major settlements while freezing building in isolated parts of the West Bank. That would be a sharp break from Obama administration policy.

Prime Minister Benjamin Netanyahu has been more cautious, congratulating Trump but giving no indication on whether he will now change his policies.

Previous administrations have given varying amounts of leeway to Israel on the issue of settlements, but also have pushed for the two-state solution. President Bill Clinton helped broker the Oslo Accord, attempting to establish a framework to resolve the conflict. President George W. Bush launched a plan that endorsed an independent Palestinian state existing peacefully alongside Israel. Both approaches fizzled, and two rounds of peace talks during the Obama years quickly collapsed.

Trump criticized Palestinians when he spoke in March at the American Israel Public Affairs Committee conference in Washington. He said "half of the population of Palestine has been taken over by the Palestinian ISIS and Hamas, and the other half refuses to confront the first half." Hamas, an Islamic militant group, controls the Gaza Strip.

One of Trump's top advisers on Israel, Jason Greenblatt, said in a recent interview that the President-elect doesn't think West Bank settlements should be condemned or pose an "obstacle to peace." Greenblatt, chief legal officer and executive vice president at the Trump Organization, was interviewed on Israel's Army Radio.

Trump has echoed the decades-old promise of past presidential candidates that he would move the US Embassy in Israel from Tel Aviv to Jerusalem. That would signal US recognition of Jerusalem as Israel's capital, a move that would infuriate Palestinians, who claim the eastern sector of the city, captured by Israel in 1967, as their capital. Presidents have not followed through on the pledge.

Some Trump advisers and supporters have been dismissive of the Palestinian cause. Former New York City Mayor Rudy Giuliani told the Israeli American Council in September that the US should "reject the whole notion of a two-state solution in Israel."

Former House Speaker Newt Gingrich and casino mogul Sheldon Adelson both say the Palestinians are an invented people. John Bolton, a former US ambassador to the United Nations, said in 2014 that a two-state solution "would inevitably lead to a terror state on the other side of the border with Israel."

Jeremy Ben Ami, founder of J-Street, a liberal pro-Israel group that advocates a two-state solution, said the future of the Arab-Israeli conflict lies in the pending Trump Cabinet appointments.

He said if policy is driven by the "Israel-can-do-no-wrong" camp, "then some of those in the Israeli right-wing are going to be very happy."