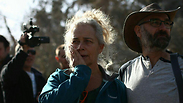 Rama Ben Zvi assesses the damage
Photo: Ohad Zwigenberg
Assessing the damage: Nataf residents return
The residents of the village of Nataf return after the fire had been extinguished, some of them thankful that their homes have been spared, others not so; 'It's just unbelievable, what happened here so quickly,' says Rama Ben Zvi, whose restaurant and home were destroyed by the fire. 'I saw the flames coming closer, and all of a sudden it hit me that the restaurant was gone. My whole body began to shake and I started crying.'
The residents of the village of Nataf, located in the Judean Mountains near Jerusalem, began returning on Saturday to assess the damage. Flying over head, firefighting aircrafts from Israel and those of assisting nations continued to dump water and firestop components on the open fields that remained aflame.

"Rama's Kitchen," the restaurant of Nataf resident Rama Ben Zvi, suffered the largest amount of damage in the village, in addition to en-Zvi's home.


"It's just unbelievable, what happened here so quickly," muttered Ben Zvi as she looked over the ashen remnants at the site of where her restaurant once stood. She met firefighting officer Sgt. Maj. Udi Gal at there. His wife, Romi, has been an events planner at Rama's Kitchen for eight years.He said that the fire started near the Palestinian town of Qatanna, which lies near the West Bank border fence. The fire managed to reach Nataf within the hour.

"At some point, dear Udi got here and told me, 'Get out of here,'" recounted Rama. "I told him I wasn't going anywhere." She continued by saying, "He saved me. It all happened within ten minutes."

"I grabbed photo albums, though I didn't know what to take, what was important," she said. "I realized that I needed to get the car ready. Udi got me out of there and made sure I reached my car. When I got to the closest roundabout, I saw the flames coming closer, and all of a sudden it hit me that the restaurant was gone. My whole body began to shake and I started crying."

Tomer Niv, the restaurant's chef, described the events leading to Friday night's evacuation. "We were having a wedding and found out about the fire at around two-thirty (am- ed.). At three, we told our clients to leave, because we were afraid the access road would be blocked. We moved away the gas containers and then at four, it all happened in the span of ten minutes. Just one hellish fire."

"We tried to stop it, but there was no chance of that. There were fire trucks and firefighters with a water hose, but the flames were 20 meters high. What burned down here was something that was precious to all of us, and we're still trying to process everything. I can't really tell you what I'm feeling right now."

Do you think you'll reopen?

"My gut tells me we will," said Niv, though he stressed that this was something for Rama to decide.

The structure of a plant nursery located next to the restaurant was lightly damaged in the fire. However, its manager Pnina Baumheft, said that she fears the damage they intense heat might have caused the plants inside might have caused them irreparable damage.

"I'm not going to break down and cry now, but it really breaks your heart. We always fight for it when it's dry or damaged here, but what are we going to do now? I have no idea if the plants will survive, they were hit by such an extreme heat. I don't know what those airplanes have been spraying, whether it's poisonous to the plants."

She referred to rumors that began circulating ever since the fires broke out, claiming that they were result of arson. "When we heard it was caused by a Molotov cocktail, that was the hardest. People from Qatanna come here to work. I'm not blaming anyone, but to throw a Molotov cocktail at us? It's sad, breaks your heart, I hope people will manage to get over this."

Sivan Porat Ronkin, who has been residing in Nataf for nine years, lives three houses down from the plant nursery. "I managed to get back here at 11 at night. We were updated about what was happening in there and knew that the situation over at Rama's wasn't good, but that the men who stayed behind were fighting the fire and fighting for the houses. It's really sad and painful." She added that "We're all one big family here. We'll help Rama rebuild. This village has good sides to it, and one of them is helping one another out."