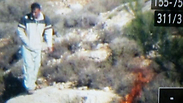 A Palestinian suspect of arson
Photo: Ziv Birman of the Nature and Parks Authority
Several Palestinians arrested on suspicion of arson
The IDF, Shin Bet and Israel Police have all been cooperating in an effort to capture individuals linked to the recent wave of fires, as suspicions of arson arise; a video of the Israeli Air Force shows forces working together to apprehend a suspect of arson in the Jerusalem Mountains.
The IDF Spokesperson's Unit issued a statement on Saturday, saying that during a joint mission of the IDF and Shin Bet, more than ten Palestinians have been arrested on suspicions linking them to the recent fires that have been springing up all over Israel.

The news comes after rumors have circulating that Palestinians teams have been responsible for at least part of the fires from the last five days. The Israel Police announced that it has arrested 23 arson suspects, while it currently suspects that more than 30 persons were invovled in such activity.

A burnt building at Ma'ale Adumim (צילום גיל יוחנן)

The IDF overtook three suspects near the Palestinian village of Dir Kadis on Friday night. They were found along with two full tankards of gas, an empty tankard, a sack full of cloth, gloves and lighters in a car.






Earlier, the IDF worked with Israel Police apprehended a suspect identified by a forest ranger as setting fire to the brush northwest of the Palestinian village of Batir.

Meanwhile, the Israeli Air Force managed to capture two suspects who were seen by a surveillance plane above the village of Beit Meir in the Jerusalem Hills.

IDF Air Force and ground troops overtake arson suspect

Though the initial concern was that the two were looking to commit arson out of nationalistic motives, after they were arrested, they were found to be known to the police to be part of a band of thieves. As such, the police began investigating whether the forest fire was caused due to security forces using equipment to light the way during the chase.