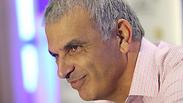 Moshe Kahlon
Photo: Motti Kimchi
Finance minister: State will compensate damage caused by terrorism
In keeping with Israeli law, the government will reimburse those whose property was damaged by fires deemed to be the result of terrorist activity, says Moshe Kahlon; he also calls on private insurance companies to delay accounting and provide compensation to customers whose homes were not burnt out of nationalistic motives.
Minister of Finance Moshe Kahlon visited the Haifa fire command center on Friday and said that the state will compensate citizens whose homes were damaged in the wave of fires that swept the country, on the condition that they were damaged as a result of terrorist activity.

Kahlon added, "Now, all that's important is to provide service to citizens. We'll make sure that no citizen slips between the cracks. The people that have lost their property are already suffering enough, and there's no need to put more on them. I also informed the mayor and all the responsible bodies: Don't look at money and at bureaucracy—work, shorten waits. There's no reason to delay the treatment of citizens."

Kahlon said that the compensation would be paid from the Property Tax Compensation Fund, which was established by statute in 1961 to compensate citizens whose property was lost or damaged as a result of war or terrorism.

The minister added, "Property Tax representatives already came this morning to the Haifa command center to offer assistance to citizens whose homes were damaged and from Sunday, official appraisers will begin to assess the damages from all the incidents and will be available to the public at all the fire centers. We will open a number of Property Tax centers in all the areas that were damaged. In addition, an information center will be set up to receive applications and provide answers to citizens' questions."

Kahlon also stated, "I also call on the private insurance companies: Provide the citizens who have been harmed the best service; there will be time for accounting later. At times like this, all that's important is helping people."

J. S. Herzog contributed to this report.