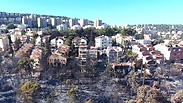 Haifa on Saturday
Photo: Ilan Barsheshet
Haifa city engineers found that 527 apartments and 77 buildings are no longer inhabitable after the fires that ravaged the city.

Some of the buildings have infrastructural problems and have thus been declared as dangerous for residence. A total of 1,616 residents have been left homeless.

Drone footage over Haifa on Saturday (צילום: אילן ברששת Ilan Barsheshet)

The engineers assessed that, at this point, 175 buildings were damaged at various levels by the conflagrations. In those buildings, 4,832 tenants live in 1,784 apartments.

The Haifa Municipality held a situational assessment on Saturday evening with the goal of putting a figure to the number of residents who currently require assistance in repairing their homes and those who need lodging. Most of city's schools and universities are to be open and functioning on Sunday as usual.