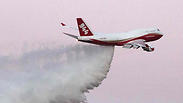 The Supertanker over Nataf
Photo: AFP
Fire commanders, police at odds over Supertanker
While acting Fire Commissioner says there is no operational need for the massive American firefighting aircraft, the police, which operates the plane, insisted on using it over the Jerusalem Mountains on Saturday. On Sunday, however, it took to the air and circled idly over the Israeli shoreline.
The media may have hailed the arrival of the Supertanker from the United States, but the heads of Israel's Fire & Rescue Authority said Sunday there is no need for the massive firefighting aircraft at present.

The Supertanker landed in Israel on Friday night, but was only put to use on Saturday in the Jerusalem Mountains area, over Nataf.

The Supertanker in action over the Jerusalem Mountains (צילום: עפר מאיר, אריאל רבל)

It took to the air again on Sunday afternoon, but found itself circling idly over the sea near Zikhron Ya'akov and the Haifa Bay area after all of the major fires had already been put out.

While acting Fire Commissioner Shimon Ben-Ner said there was no need for the Supertanker, the aircraft is operated directly by the Israel Police and it is the police that will eventually decide whether or not to use it.

On Saturday, police demanded to use the firefighting aircraft in the forests that border Highway 1, while the Fire & Rescue Authority determined there was no operational need for it. Eventually, despite disagreements between the two emergency services, the Supertanker was used to help extinguish areas that were still on fire near Nataf.

The massive firefighting aircraft, which reached Israel after firefighters had already gained control over the fires in Haifa, was one of 21 planes that took to the sky to help put out the blazes that plagued Israel last week.

In total, some 325 foreign nationals participated in firefighting efforts.

Itay Blumenthal, Roi Yanovsky, Moran Azulay and Itamar Eichner contributed to this report.