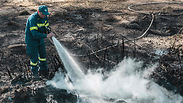 Firefighter outside of Hadera
Photo: AFP
Yair Grinshpan, a 37-year-old resident of Ganei Tikva near Petach Tikvah, was arrested on Saturday night after calling on his Facebook page "to burn Arab villages," one of five persons arrested thus far for online incitement to violence following the recent wave of fires.

Grinshpan was granted conditional release by the Tel Aviv Magistrates' Court for of his suspected offenses of incitement to violence. He was ordered not to use his mobile phone or computer for the next month.

The suspect was arrested at midnight Sunday after writing, among other things: "What happened in Haifa and Jerusalem will happen in Umm al-Fahm," he wrote in reference to the Arab town located northwest of Jenin, "to burn the sons of bitches back."

"Just burning Arab villages in return; this is war," read another of his inflammatory posts. "To all the leftists who believe in piece, know that in the Palestinian Authority they're happily calling to burn more places here."

The accused's lawyer, Limor Bramli, claimed that her client was not permitted to consult with a lawyer before his arrest and protested the fact that his computer was taken without a warrant. "My client expressed his opinion on Facebook with a group of a lot of other people who expressed their opinion," she told Ynet. "There were opinions that were a lot more extreme than his opinions, but he was chosen as a scapegoat without a justified reason. He expressed an opinion and didn't tell others to commit a physical act. He wrote words in the framework of freedom of expression."

At the time of publication, the Israel Police have arrested 23 suspects for arson relating to the wave of fires that plagued the country over the past week, 18 of whom are Arab Israelis, with the rest being Palestinians. Twenty-three of them remain jailed. They have also arrested five persons—three Jews, including Grinshpan, and two Arabs—for online incitement.

The arrests for online incitement were carried out following the instructions of Interior Minister Gilad Erdan, who called on the police to work to curtail this trend.

The police reported to the government in the weekly cabinet meeting on Sunday that some residents of Deir Hanna and Umm al-Fahm confessed to having intentionally started fires, the first admissions of guilt in the investigation.