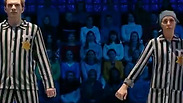 Burkovsky (L) and Navka perform
Russian TV shows 'Holocaust'-themed ice dance
A pair of Russian ice dancers, including an Olympic champion and Russian President Vladimir Putin's spokesman's wife, perform on a reality TV show dressed as Jewish prisoners in a Nazi concentration camp, while an Achinoam Nini song is played in the background; the performance ends with Nazis shooting Navka's partner's character to death.
Olympic ice dancing champion Tatiana Navka performed with her partner, actor Andrey Burkovsky, on Russia's popular Channel 1 television show on Saturday, dressed in a Jewish prisoner's uniform in a Nazi concentration camp. The outfit even included a yellow badge and a number sewn on her clothes.

Navka is the wife of Dmitry Peskov, Russian President Vladimir Putin's spokesman. She and Burkovsky performed to the song of Israeli singer Achinoam Nini's song Life is Beautiful, which was included in Roberto Benini's 1997 comedic drama of the same name.

Burkovsky and Navka perform

The performance was done as part of the reality show the Ice Age, which features a pair of dancers who perform in front of a panel of judges and a live audience.

Navka and Burkovsky's dance unfolded the narrative of a Jewish couple and their infant son during the time of the Holocaust. It ends with Burkovsky's character being shot by Nazis, leaving Navka's character with their infant son.

The dance roused the criticism of many viewers, which found it to be "outrageous," "shocking" and "offensive."

Navka and Burkovsky told Russian media on Sunday that it was their way of paying homage to Holocaust victims.

Navka also responded on her Instagram account, saying that her intention was to raise awareness of the Holocaust and encourage people to watch Life is Beautiful (a favorite of hers), so that children learn about the Holocaust, which, she wrote, she hopes they will never experience.

While some Russians were indignant at what some saw as mockery of the memory of the dead, others posted messages of support on Navka's Instagram account, saying that the dance brought tears to their eyes.

The routine was choreographed by 2002 Olympic silver medalist Ilya Averbukh, who is Jewish.

Averbukh, who said in a 2012 interview that he "had problems" in his childhood because of his Jewish name, stood by the Holocaust-themed dance.

"This routine is my idea," Averbukh, who is also Ice Age's chief producer, told Komsomolskaya Pravda on Sunday. "I have done a lot of routines on the war and Jewish themes, there were very different characters."

AP contributed to this story.