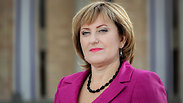 Faina Kirschenbaum
Photo: Erez Biton
Former deputy minister took 'commission' in return for debt settling
State witness in Yisrael Beytenu corruption affair tells police investigators that former senior party official Faina Kirschenbaum asked him for a NIS 1.5 million commission—to be paid in services—in return for allocating NIS 3.5 million of taxpayer money to help cover debt of Central Company for the Development of Samaria.
Gershon Mesika, the state witness in a corruption affair involving former senior Yisrael Beytenu officials, has told police investigators that former deputy minister Faina Kirschenbaum had asked him for a NIS 1.5 million commission in return for NIS 3.5 million to pay off his debts.

"This is a sensitive topic. Commission in return for erasing debts is in the gray area, which smells a bit fishy, and that's why such deals usually get closed in small forums, where there is trust," Gershon told police.

Mesika, the former head of the Samaria Regional Council and chair of the Central Company for the Development of Samaria, became a state witness in the large-scale corruption affair in March 2015.


Officials at the State Attorney's Office described the corruption scandal as one of the most severe in Israel's history. They are hoping to use Mesika's testimony to convict Kirschenbaum, who was a high-profile member of Yisrael Beytenu and a close associate of Chairman Avigdor Lieberman. The bulk of the party's activities went through her, and she was involved in all its parliamentary and political moves.

Kirschenbaum and former tourism minister Stas Misezhnikov are among the 16 suspects questioned over the Yisrael Beytenu corruption scandal. She is suspected of receiving bribes in return for allocating funds that originated in the state's coffers to different municipalities and organizations.

She was in charge of the allocation of the party's coalition money—some NIS 170 million a year in taxpayer money given to parties as part of their coalition agreements to do with as they see fit.
Settling debts in return for services
Mesika told police interrogators that he met with Kirschenbaum at her Knesset office in 2010 and asked for her help with settling the Central Company for the Development of Samaria's mortgage debt of NIS 10 million.

"I explained to her that the Central Company for the Development of Samaria took out mortgages from the Finance Ministry and that we needed to pay them back due to houses not being built (because of the intifada—LD). I asked her to allocate funds from her coalition money to erase the debt," Mesika told interrogators.

"I don't remember if I gave her a sum, or if she told me that she could help with NIS 3.5 million," he added.

The two also discussed what Mesika will give in return for the financial help. "An understanding was created according to which she will receive NIS 1.5 million (in services) for party needs—transportation and other things the company (for the Development of Samaria) could give," Mesika said.

"In an answer to your question, there was no (official) agreement. When it comes to Yisrael Beytenu, an agreement is based on someone's word," he added.

Several days later, Mesika received the green light from Kirschenbaum, and the Central Company for the Development of Samaria began providing services to Yisrael Beytenu. By December 2011, the debt was settled.
'I'd never agree to pay bribes in cash'
When asked by police interrogators why the company had to pay a commission for erasing the debt, he explained that "The coalition money given to Yisrael Beytenu can be spent as they see fit, and they would not have given me this deal without a return."

He went on to note that "the party has hundreds of objectives, and they decide where to allocate their coalition money ... erasing debts is not something very attractive unlike, for example, asking for a budget to build a synagogue in (the settlement of) Itamar after the murder of the Fogel family, something the party would want to help with and be part of the project."

Mesika said he made it clear to Kirschenbaum that this commission could only come in the form of services his company was already providing. "I would never agree to pay bribes in cash, because that goes against everything I believe in. I saw justification in providing services, having the party help the company and in return the company provides it with services," he said.

In addition to services the company provided the party, Mesika said Kirschenbaum had also referred people who provided the Central Company for the Development of Samaria with services and received payments from the company for these services.

The interrogators pressed Mesika on this matter, asking "How were these services 'returned' to Yisrael Beytenu? Meaning, the company paid hundreds of thousands of shekels as part of business deals with people referred to it by Yisrael Beytenu. How did this money go from these people to Yisrael Beytenu?"

Mesika responded that "It was my understanding that these people provided or still provide services to Yisrael Beytenu, and the payment we gave them was for those services they provided, provide, or will provide the party. That's my own reasoning. No one told me this. You have to understand there wasn't much talking done. When it comes to Yisrael Beytanu, it's all about actions—not talking."

Mesika said it was clear to him that the people who were referred to him by Kirschenbaum "were all connected to the NIS 1.5 million" and that he had to hire their services.

"Every time there was a delay in payment to the people she sent, they'd go crying to her and she'd make sure to inform me of this, telling me 'What's going on with this? Any progress on payment to one of the people I sent you?'" Mesika recounted.

He described Kirschenbaum as "involved in what was happening as far as things moving along. She made sure things happened the way she wanted them to, with regards to payments for her people. If a payment was late, she'd talk to me."
Kirschenbaum opts to remain silent
Kirschenbaum, who is suspected of bribery, fraud and breach of trust, money laundering and other tax offenses, allegedly received personal benefits in return for the coalition funds she allocated, as well as benefits for the party itself and for her close associates.
Kirschenbaum allegedly received these benefits in cash or in funding of private trips for her and her family, among other things.
When asked to explain NIS 2 million found in her bank account and an additional NIS 2 million in her mother's account, Kirschenbaum claimed the money in her own account is inheritance money while the funds in her mother's account are both savings and inheritance money.
"There are two bank accounts I share with my husband. In addition to that, there is one more account managed by a management company due to my being the deputy interior minister (at the time). There is about a NIS 2 million balance in the account managed by the management company. Part of it is inheritance left to us by my husband's parents, which was around NIS 1.4 million, and the rest are savings we've accumulated over the years."
She went on to state that the money in her account appeared in her declarations of capital and that she had no connection with the money in her mother's account.
"The police sensantionally presented this money as hidden funds that allegedly originated in unknown, criminal sources," she accused.
After initially cooperating with investigators, Kirschenbaum changed her mind: "Since my (initial) questioning, there has been a war of attrition waged against me, as well as character assassination and blatant damages caused to me, my family and everyone around me ... My name and photos are constantly in the headlines. I've been personally and publicly denunciated ... I feel that the investigation is no longer done to uncover the truth, as police had already shot the arrow and are now marking the target around it. There is no meaning to this investigation as I've already been tried, convicted and denunciated by investigation authorities and the public. For lack of any other option, I decided to use my right to remain silent."