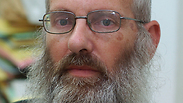 Col. Eyal Karim
Photo: Bamahane
High Court shelves complaint, Karim approved to be chief rabbi
Following an affidavit issued by appointed IDF Chief Rabbi Col. Eyal Karim in which he admits he was wrong, High Court shelves Meretz petition seeking to prevent Karim from assuming the position; High Court: 'It is a shame the clear words of the respondent were not expressed earlier.'
The Israel High Court shelved a petition on Monday put forth by Meretz attempting to block the appointment of Rabbi Eyal Karim as the IDF's chief rabbi. Karim can officially assume the position following a ceremony to be held Thursday.

Meretz Chairperson Zehava Gal-On, MK Mihal Rozin and MK Tamar Zandberg said in response, "We respect the High Court for standing by its promise to clarify Rabbi Karim's words, and we respect the decision not to cancel the appointment. We are pleased the judges didn't reject the petition without reason, and we are sure this ruling was justifiably detailed, and that the verdict will be quoted from in the future."

The three MKs added that "This is a real precedent in the courts intervening in the appointment system, particularly in the IDF, based on statements alone. This is a warning from the court that veering from IDF values will not be overlooked."

Karim filed an affidavit to the High Court in which he said, "Every rabbi, whether he be a teacher or a public official is required to be capable of retracting and admitting a mistake. I am not afraid to say that I was wrong. I was wrong in that I thought briefly about complicated questions which have more to them than just one halakhik (Jewish legal) stance. I was wrong in that I didn't clarify my words accurately and there were those who were hurt by them. I have already whole-heartedly apologized for this."

Karim clarified his remarks and said that he never permitted rape. Referring to previous anti-gay statements he had made in the past, Karim added that one should treat all people with dignity and equality, regardless of their sex or sexual orientation.

Sunday, Meretz MKs issued a response to Karim's affidavit, saying that they "welcome the clear statements written in the affidavit and the moral message included in it, which is important for all soldiers in the IDF." As such, the MKs explained that the petition had served its purpose and they will not insist on continuing proceedings.

"We also think there is no room for further consideration of the petition in light of the detailed affidavit provided by the respondent," said Chief Justice and Supreme Court President Miriam Naor in the ruling. "It is a shame the clear words of the respondent were not expressed earlier."

Naor noted in the ruling that it was "better late than never. The clear statement by the respondent's affidavit is that these statements are inconsistent with the values of Israel as a Jewish and democratic state. We wish Col. Eyal Karim much success in such an important role and hope he brings glory to the IDF and the State of Israel."