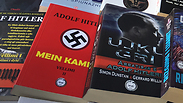 anti-Semitic books in Kosovo
Kosovar President Hashim Thaçi ordered authorities to ban anti-Semitic books after a visiting Israeli appealed directly to him after encountering openly anti-Semitic and Nazi publications on the main avenue of the capital, Priština.

Ido Daniel, an expert on the fight against anti-Semitism and racism, came to Kosovo at the invitation of the government and the European Cooperation Organization to participate in a conference on combating racism and radicalization. The conference was attended by experts on terrorism from across the world as Kosovo battles against incitement and recruitment for extremist organizations such as ISIS.

One day during the conference, Daniel walked through Priština's main boulevard and noticed that many stands and bookstores were selling anti-Semitic books translated into Albanian. Among the works sold were three different versions of Mein Kampf.

"How many people were exposed to this poison? Thousands of people pass by there everyday. It turns out that there is a whole industry of anti-Semitic literature translated into Albanian and other languages in the region as part of an organized campaign of incitement against Jews in the Balkans," said Daniel.

Daniel turned to the Ministry of Public Security of Kosovo, which invited him to the conference, and filed a complaint. Together with Dr. Shimon Samuels of the Simon Wiesenthal Center, the two wrote a letter to the Kosovar president to investigate the matter.

The president responded with a letter to Daniel and Dr. Samuels saying: "We are deeply concerned by the attempts of individuals to introduce radical and threatening ideologies into Kosovo. As such, we are taking the information on such activities seriously," wrote Thaçi. "Regardless, this incident is rare, and I can assure you that I directed authorities to immediately investigate this incident and take all necessary steps to prevent the spread of hatred in a flagrant violation of the constitution."

In response, Daniel said, "People in Kosovo today are pro-Israel, but who knows what can happen in ten years? I can only thank the President of Kosovo for acting decisively against the vendors."