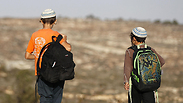 Amona residents
Photo: AFP
Bitan proposes voting on two versions of Regulation Bill
The coalition chairman proposes that section legalizing Amona be removed in one version so that the Knesset can vote on both in Wednesday's first reading of the bill; coalition source say that this suggestion is intended to stall for time; attorney general's compromise requires that Regulation Bill not become law.
Coalition Chairman MK David Bitan (Likud) proposed Tuesday evening a compromise on the "Regulation Bill" that would allow Finance Minister Moshe Kahlon (Kulanu) to support it in its first reading, following the latter's opposition to a section that retroactively legalizes the Amona outpost.

The compromise is that the bill, which is to be brought to the Knesset on Wednesday, would be presented in two different versions to be voted one. One version would include the clause in question, which seeks to bypass the ruling by the High Court of Justice (HCJ) that calls for Amona to be evacuated, and the other would not.

Sources in the coalition explained that the purpose of the different versions is to stall while alternative solutions can be sought. The Security Cabinet is to meet on Wednesday to discuss the bill and the alternative, which is supported by Attorney General Avichai Mandelblit and which entails temporarily relocated Amona residents. Monday night, Mandelblit presented his compromise proposal to Prime Minister Benjamin Netanyahu, which is detailed below:
AG's compromise
1. Evacuating as planned

The basic assumption is that, in any case, Amona will be evacuated by the end of December, as the HCJ ordered, and that the controversial Regulation Bill will be effectively buried.

2. Temporary relocation

The evacuees will be moved out of their current homes in the outpost, which is located on private Palestinian land, to three nearby plots of land that belong to absentee Palestinian land owners, dubbed "North Amona."

3. Arranging permanent residences

Planning and construction officials and jurists will collaborate to locate lands nearby Amona to be a permanent site for Amona residents.

4. Introducing the "Cypriot Model"

Alongside the evacuation procedures, the attorney general will introduce a model wherein a land dispute court will be established in the West Bank to deal with such issues and prevent similar crises in the future.

Mandleblit's above compromise is composed to a variety of proposals ventured by politicians in recent days. It depends on a clear stipulation: the elimination of the Regulation Bill before it is brought to a vote.