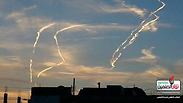 An attack in Damascus in 2014 attributed to Israel
The Israeli Air Force reportedly attacked a Syrian army outpost and a Hezbollah arms convoy not far from the highway connecting Damascus and Beirut early Wednesday, according to the Syrian government and reports on Arab media.

Both attacks were reportedly carried out by aircraft flying over Lebanese airspace.

According to reports that originated on social media accounts affiliated with the regime of Syrian President Bashar Assad, at 1:15am four explosions were heard in Damascus.

Officials quoted by the London-based newspaper Rai al-Youm said the explosions were caused by four missiles fired in two different targets.

The first target, the officials said, was an arms depot that belongs to the 38th Brigade of the 4th Division in the Syrian army. While damage was caused to the arms depot, no one was reported hurt.

The second target was several vehicles that were believed to be part of a Hezbollah arms convoy travelling near the highway connecting the Syrian and Lebanese capitals. The officials stressed that the attack did not target any political or military leader.

The Syrian Observatory for Human Rights, a body that monitors the civil war in the country, said loud explosions were heard on the outskirts of Damascus overnight and that it is believed they were the result of an attack on a Syrian army outpost in the al-Sabura area.

The Saudi-based Al Arabiya and the Qatar-based Al Jazeera TV networks also reported on the attack on the Syrian arms depot.

So far, the attack has not been reported by Hezbollah affiliated media, but it was reported on the Assad regime's official news agency SANA.

"In an attempt to distract from the successes of the Syrian army and to lift the low morale of the terrorist gangs, Israeli aircraft carried out an attack early in the morning from Lebanese airspace using two missiles. The missiles fell in the al-Sabura area and no one was injured," a Syrian military official told SANA.

The IDF declined to confirm or deny the reports, merely stating: "We do not respond to foreign reports."