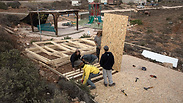 Some Amona residents are seeking out alternative housing options, including renting apartments in the nearby settlement of Ofra, ahead of the expected evacuation of the settlement in late December in accordance with a Supreme Court decision.

Sources familiar with the details say that six families from Amona have already contacted Ofra residents who maintain rentals and looked into their prices.

"Three families have already contacted me, and I ended up renting to a family for a short-term contact," said one resident. "They understand that the state won't take care of them, so they need to start worrying about themselves."

Amona residents have reservations about the proposed solution of "absentee property," which was offered during a cabinet meeting this week and approved by Attorney General Avichai Mandelblit. Under the proposed solution, residents will move to three areas that Palestinians have not claimed ownership of, but will have to leave after eight months.

Amona residents have responded that the proposed solution is both embarrassing and outrageous. Amona resident Yair Frank said: "We aren't luggage that can be moved from place to place. What will we tell our children in another eight months? That we're being uprooted again? Are we back to being the wandering Jews?"