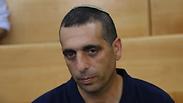 Brig. Gen. Buchris
Photo: Motti Kimchi
A female officer, L., serving under Brig. Gen. Ofek Buchris – who is currently on trial for sexual harassment while head of the Golani brigade – has testified saying that Buchris touched her breast.

"Ofek was looking for a projector and couldn't find one," she said. "He closed and locked the door to the room and touched my breast. I said, 'no, this isn't ok.' Afterwards, there wasn't even a phone call between us."

A Channel 10 report said that the Brig. Gen. told friends that "people in Golani had told me that (L.) had a crush on me. People would laugh at her for saying that 'the head of the Golani brigade is really cute.' People told me she idolized me, but that my driver told her that 'in Ofek's opinion, you're just another soldier like the rest of us.'"




Buchris was asked during his investigation about another incident with L. whereby he allegedly kissed the female officer at a base in Nahal Oz.

"I thanked her for the kiss and said that we got carried away. I did it to protect her dignity," Buchris said. "She came to me because she wanted to show me something, then began to complain about problems she was having in her life. I put my hand on her shoulder and told her 'focus on what's important.' She turned around, and I gave her a kiss on the lips. I took a step back and I said 'this is crazy.'"

The Brig. Gen. continued saying "she then kissed me on the lips and said 'if you knew how wet I am. It's been a long time since I've been with a man.' In told her I wasn't interested, and parted ways. I called her later that night at told her 'there is nothing between us, and there will never be anything between us.'"
'I never said "rape." You did.'
During a meeting between an investigator with the IDF Criminal Investigations Division (CID), Buchris, and a female soldier named only as A.,Buchris asked her, "You said that I raped you five times. When and where?"

A: "I never said the word 'rape.' You did."

CID investigator: "'Rape' is the legal heading that we gave to the case based on the descriptions described."

A.: "See? He's the one who said it, not me."

CID investigator: (To A.), "Why did you come forward after five years?"

A.: "I'm studying criminology, and the statute of limitations will be up soon."

CID Investigator: "Tell me what happened in the cottage."

Buchris: "Yea, talk about the cottage."

A: "You asked me to put a bag in the kitchen, and then you pushed me up against a wall of the kitchen. Then you dragged me to the bedroom, laid me down, and stripped me naked. I was frozen (in shock). You moved the towels which were on the bed. After you were done, you were stressed because you couldn't find your kippa. What god do you have??"

Buchris: "Talk about the battle scars I have."

A.:"You have scars on your stomach, your hip, and on your leg."

Buchris: "I have over thirty feet of scars from ten different bullet wounds."