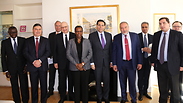 UN ambassadors with Lieberman
Minister of Defense Avigdor Lieberman held a meeting with the UN ambassadors of several countries in which he discussed Israel's role in the Middle East and the world at large, while slamming the UN's international perception.

Among participants in the meeting were the UN ambassadors of Canada, Russia, India, Italy, Senegal, Singapore, Rwanda, Greece, Cyprus, Holland, Bulgaria and Argentina. The meeting was hosted by Israel's ambassador to the UN Danny Danon.

During the meeting, Lieberman told the ambassadors that what has happened in the last decade in terms of world security is very troubling and warned that the UN, and other world bodies, is unable to solve these problems and risks becoming less relevant to what is happening in the international arena.

Lieberman drew on numerous examples of serious international issues, such as the Syrian civil war, where at least half a million people have been killed and millions more displaced. In addition to Syria, Lieberman also drew on the example of North Korea, a country which flouts international laws by committing rampant human rights abuses and nuclear weapons testing.

Lieberman contended that the UN and other international bodies have no real recourse to stop these activities and instead waste their time passing anti-Israel resolutions and motions such as the recent resolution adopted by UNESCO concerning Jerusalem.

"All this proves that the United Nations, including the Security Council, do not perform their duties and are not relevant to the rest of the world," said Lieberman.

After the meeting, Israel's ambassador to the UN, Danny Danon, said that the ambassadors were briefed by Lieberman on Israel's security challenges and the Middle East. "We are strengthening our ties and cooperation with many countries and there is a clear understanding among our allies that Israel is an island of stability in a turbulent Middle East," said Danon.

Yoav Zitun contributed to this report.