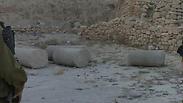 Damaged pillar
Photo: Samaria Regional Council
A marble pillar belonging to the 2,000-years-old Herodium palace was smashed in the Sebastia National Park in the capital of ancient Samaria.

The incident is the second time vandalism has occurred within three months at the archeological site against antiquities directly connected with Israeli heritage.

Deputy Defense Minister Eli Ben Dahan (Bayit Yehudi) visited the fortress, built by Herod the Great, recommended building a fence around the area and positioning guards to protect its structure.

"We need to start taking care of this place. I have no doubt that we need to cooperate with the Samaria Regional Council, the Civil Administration and the Ministry of Defense," said Dahan. "We need to turn this place into a national site that will be able to be visited and be protected so its antiquities are not stolen. I hope that we will be able to do this soon," he added.

This is not the first time that biblical treasures have been vandalized. Indeed, graffiti was sprayed at the site denouncing Judaism and Christianity, while Christian monuments were defiled, antiquities were robbed, and seats in a Roman amphitheater were damaged.

The giant archeological site, which was located in the ancient capital of Israel, was founded, according to the book King of Kings, by King Omri in 880 BCE.

The site is under Israeli civilian and military control in Area C of the West Bank, but the parking lot of the site and the road leading to it falls under Palestinian civilian jurisdiction in Area B.

In the Palestinian village of Sebastia, Nablus, situated alongside the site, Christians tour freely in buses with Palestinian tour guides. By contrast, Jewish tourists and visitors require an IDF security detail.