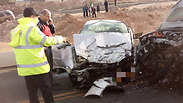 The number of fatalities in road accidents in Israel currently stands at 32,959, more than all the fatalities of Israel's wars and terrorist attacks. Of that total, 5,038 were children.

For the fourth consecutive year, the amount of fatalities has increased. 2016 has thus far seen 328 Israelis die on the roads, 14 more than the same period last year. To put that into perspective, 100 more fatalities were recorded in 2016 than 2012.

2016 marks an increase of 15 percent in the amount of drivers killed and a 20 percent increase in the amount of train passengers killed. However, in contrast, 2016 registered a decrease of 16 percent in the amount of motorcyclists killed and a decrease of 10 percent in the amount of pedestrians killed.

Traffic accident

In 2015, the state comptroller issued several reports detailing the failures of the government in dealing with the dangers of the road. The report was critical of the lack of effective speed cameras, Ministry of Transportation policies that paralyzed the National Road Safety Authority, the severe shortage of police officers in the traffic division and the lack of effective police enforcement of regulations for pedestrians.

The comptroller attacked the Ministry of Education for drastically scaling back traffic education in schools, particularly on motorcycles, scooters and electric bicycles.