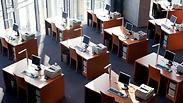 Archive
Photo: Shutterstock
The Central Bureau of Statistics (CBS) released a report on employee income in Israel from 2015 last week, which showed that Jews make nearly twice as much as Arabs on average and that women earn less than money across all age groups.

The average gross monthly wage of Jewish employees is NIS 10,128 and the median stands at NIS 7,261. Arab employees earn a monthly average of NIS 5,939 with a median of NIS 5,334. The gap between the salaries in the two sectors grows for those with academic backgrounds.

Male employees earn an average of NIS 11,219 per month and NIS 59.6 per hour. Contrariwise, female employees earn NIS 7,666 per month on average and NIS 50.6 per hour. The median monthly salary for employed men is NIS 7,988 and NIS 5,834 for women.

These figures mean that the average monthly salary of employed women is 68.3% of an employed man's, 84.8% for hourly and 73% for median salary.

Part of the pay gap between the genders comes from the difference in number of hours that they work, with men working 44.7 hours per week on average versus 36.5 for women. Calculating the average hourly salary with that difference factors in reduces the gap to 15.3%

The data are based on a sample size of 11,020 employees representing 3,192,881 employees in the population. Twenty-five different locations in Israel were sampled.

The monthly median income for employees is NIS 6,884, which is an increase of 3.4% from 2014. The average age of employees is 39.5, and the average years of education are 14.1. Men make up 51.7% of employees.

The gross monthly average salary for men in the top ten percent is 44.1 times that of those in bottom top ten. Regarding women, that datum changes to 39.2.