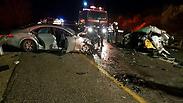 Three killed, toddler seriously injured in car crash
Crash took place overnight Saturday after two vehicles collided on Highway 79 in lower Galilee; paramedics forced to pronounce death of a man and two women after being extricated from vehicles; toddler evacuated to hospital having sustained head injuries; another man and woman hospitalized in serious condition, two youths lightly wounded.
A man and two women were killed and a toddler seriously injured overnight Saturday in a road collision between two vehicles on Highway 79 in the lower Galilee.

Magen David Adom (MDA) paramedics who arrived at the scene tended to a three-year-old girl who was left in serious condition having suffered wounds to the head. A man in his 40s and a 30-year-old woman were also found in serious condition while two other youths were lightly wounded in the incident.

Scene of the crash on Highway 79 (צלם: מד"א)

The accident occurred at approximately 1am on a bend on Highway 79, connecting the east and west in northern Israel between Zippori Junction and HaSolelim Kibbutz.

Three people were declared dead after being extricated from their vehicles by three firefighting crews in critical condition. Another man and woman, along with the toddler, were treated for serious injuries and evacuated to Rambam hospital in a helicopter. The young boy and girl who were left lightly injured were taken to hospital in Nazareth.

One paramedic described the scene upon arrival. "When we arrived at the scene it was a difficult sight. Three people were trapped unconscious inside one of the vehicles. They were without a pulse and they were not breathing. After conducting medical checks, there was no sign of life and we were forced to pronounce their death," he said.

The three people join a long list of victims to have fallen prey to the treacherous road, with at least 48 deaths having been recorded on the highway over the course of the last decade.

Since the beginning of 2016, 336 people have died on Israel's roads, according to the NGO Or Yarok (Green light).