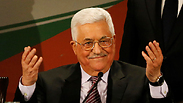 Abbas cementing his rule
Photo: AFP
Fatah concludes special conference by cementing Abbas rule
Final results of elections held by Palestinian ruling party show no significant change at the top, and no real challenge to Abbas; Marwan Barghouti got the most votes for the 18-member Central Committee, followed by former security official Jibril Rajoub.
Palestinian President Mahmoud Abbas tightened his hold on Fatah and shut out a key rival, according to unofficial results Sunday of leadership elections in the movement which has dominated West Bank politics for decades.
The election comes at a time of intense behind-the-scenes battles among senior Fatah members to succeed Abbas once the 81-year-old decides to step down. However, Abbas has given no sign that he plans to retire from the presidency or his top jobs in Fatah and the Palestine Liberation Organization.
On Saturday, more than 1,300 Fatah delegates confirmed Abbas' continued Fatah leadership role by acclamation and elected 18 members of the movement's top decision-making Central Committee.
Unofficial results indicated that top vote getters were Marwan Barghouti, a Palestinian uprising leader jailed by Israel, and Jibril Rajoub, a former West Bank security chief. Both are seen as potential Abbas successors, and their strong showing could improve their eventual succession bids.
While Abbas cemented his control over the movement, the re-election of party stalwarts and Abbas loyalists is bound to affirm Fatah's public image as a stale, aging movement that has failed to deliver on Palestinian dreams of statehood and is out of touch with the concerns of ordinary Palestinians.
Fatah, the oldest Palestinian party, held its first congress in seven years at a time when Abbas is seeking to quell dissent in the face of internal rivalries.
Casting his ballot on Saturday afternoon, Abbas, who has not publicly designated a successor, called the process "democratic and transparent."
According to a recent poll, two-thirds of Palestinians are dissatisfied with Abbas and want him to resign.
The 1,400 delegates voted at Abbas's Ramallah headquarters in the West Bank and also in the Gaza Strip where several dozen were stranded after Israel refused them passage through its territory to Ramallah.
The congress also elected 80 members of the Fatah Revolutionary Council—the party's parliament—while 40 additional council members will be directly appointed.
Founded in 1959, Fatah is the backbone of the Palestine Liberation Organisation (PLO) which the international community considers the representative of all Palestinians.
Abbas was elected president in 2005 for what should have been a four-year term.
But there have been no elections since then, and with his hold on power drawing increasing internal dissent, observers say he is seeking to ready a successor.
Social networks and some local news media during the week published names of candidates in the vote who they say have prior approval from Abbas and were therefore guaranteed election even before polling began.
Abu al-Hija denied the allegations.
At the opening session on Tuesday, members re-elected Abbas party head by consensus.
Observers see the reduced number of delegates eligible to vote—down from more than 2,000 in 2009—as part of a move to exclude Dahlan supporters.
Dimitri Diliani, elected to the Fatah Revolutionary Council in 2009, has said he was not invited to the congress like dozens of others because "we bring a different voice."
He said a planned press conference at a refugee camp near Ramallah on Tuesday with those recently dismissed from the party had been called off after threats "from the security services," including death threats.
The previous congress in 2009 brought into the ruling bodies veterans of the Palestinian security services such as Dahlan, Jibril Rajoub and the hugely popular Marwan Barghouthi, who is serving five life sentences in an Israeli prison.
The congress comes with the Israeli-Palestinian peace process at a standstill since a US-led initiative collapsed in April 2014.
Abbas told the congress on Wednesday he remained committed to dialogue with Israel but that it would not come at the expense of Palestinian principles.
"We are saying to the Israeli people that we want peace that conforms to international resolutions, but it is your government who does not," he said.
Israel must "recognize that settlements are illegal," he said, adding that "our hand will remain extended for peace."
That policy enjoys consensus support in Fatah, which renounced violence several years ago. The rival Hamas Islamist movement which controls the Gaza Strip pursues a policy of armed conflict with Israel.