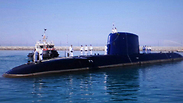 The INS Rahav
Photo: Elad Gershgorn
Ex-top security officials call for probe into submarine deal
Amid reports that Iran has shares in German-based conglomerate ThyssenKrupp, contracted to build three submarines and four warships for the Israeli Navy, concerns arise that Israeli money and classified information has made its way to Iranian hands.
Former top officials in Israel's defense establishment have called for an investigation into Israel's deal with ThyssenKrupp after reports emerged that the Iranian government holds shares in the German-based conglomerate, raising concerns Israeli money—and possibly classified information as well—will make its way to Iranian hands.

The government-owned Iran Foreign Investment Company (IFIC) owns nearly five percent of ThyssenKrupp's shares. Despite that, Israel's Defense Ministry said it does not know of any Iranian involvement in the company.

"The State of Israel and the defense establishment should have known there was an Iranian fund that holds shares in the shipyard company," former Mossad director Danny Yatom said on Saturday.

"If the Israeli defense establishment was surprised to learn that the Iranians have a share of the company's holdings, this is a failure that requires an examination," he added. "I hope—and believe—all of the relevant steps have been taken to ensure no information leaked (to the Iranians)... they need to check if Israeli money—the IDF's money that was invested in the submarines—ended up in Iran."

According to former minister and intelligence officer Rafi Eitan, the concern that classified information may have leaked to Iran is a significant one. "If the submarines are installed with secret systems developed in Israel, which I'm assuming they are, then obviously there's a risk that information leaked," Eitan said.

He explained that for an advanced navy such as Iran's "such information is worth its weight in gold."

"If they were exposed to secret information from the Israeli Navy, this is a failure that (Israel) needs to get to the bottom of," Eitan concluded.

Former Navy and Shin Bet chief Ami Ayalon noted that "stockholders should not be exposed to secret information. Even so, if any sensitive information gets to an enemy of the State of Israel—that's a serious problem."

Maj. Gen. (res.) Amos Gilad, the Director of Policy and Political-Military Affairs at the Defense Ministry, clarified on Saturday that "Iran is not selling submarines to Israel," but added that Tehran's involvement in ThyssenKrupp should be examined.

"At the end of the day, you buy from the shipyard. I wasn't aware of the Iranian involvement, but it is not a major involvement. If it were up to Iran, we wouldn't have a single submarine. Its involvement is minor and we need to look into it," Gilad said.

The deal, he stressed, was done with the German government, "and there are strict confidentiality agreements included in the construction of the submarines, which allow to build them while protecting Israel's security."

Reports over the weekend indicated that the IFIC has made some 2 million euro over a decade off dividends from ThyssenKrupp.

MK Erel Margalit (Zionist Union), a member of the Joint Committee for the Defense Budget, has asked for an emergency committee discussion on the topic.

He also asked that the Knesset's Finance Committee is convened to reexamine a deal signed with ThyssenKrupp to build four Sa'ar 6-class corvette warships, which reports on Sunday morning indicated will be built in part by the UAE-based shipbuilding company Abu Dhabi MAR.

"Those who stand to gain from these deals are (Prime Minister) Netanyahu's friends and Iran," Margalit said. "Netanyahu's private interests once again trample and undermine national interests."

MK Ksenia Svetlova (Zionist Union) called for a meeting of the Foreign Affairs and Defense Committee on the topic, while fellow party member Nachman Shai raised many questions: "The more information comes to light about the submarine deal, the more it appears crazy. Was Israel aware of the Iranian involvement in the German company? Did Israel examine in advance what were the security implications of building a strategic vessel of immense importance at a shipyard whose owners, even in part, are its enemies? Is Iran now in on Israel's secrets concerning weapons that, among others, are aimed against it?"

MK Ofer Shelah (Yesh Atid), a member of the Foreign Affairs and Defense Committee, noted that the acquisition of the submarines was "a reasonable decision and within the purview of the prime minister's responsibilities. But the urgency in closing the deal, the fact it was presented to the German chancellor before being approved by the cabinet, and mostly the clear conflict of interests in the fact a close associate of the prime minister is benefitting from the deal—all of these raise suspicions among the public that something here is wrong."

Isaac Dabush, Ilana Curiel, Yuval Karni and Amihai Atali contributed to this report.