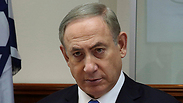 Prime Minister Netanyahu
Photo: Reuters
Prime Minister Benjamin Netanyahu asked MK Bezalel Smotrich (Bayit Yehudi) to leave his office on Saturday night over comments the MK made against the prime minister.

Smotrich arrived at the Prime Minister's Office on Saturday night to join a planned meeting between his party leader Naftali Bennett and Netanyahu regarding the Regulation Bill, which could retroactively legalize Jewish outposts built on privately-owned Palestinian land.

"You said that I wasn't right wing and that I wasn't reliable, so don't come here," Netanyahu told Smotrich, who promptly left.

In an interview with left-leaning newspaper Haaretz, Smotrich said: "I'm sorry, but unfortunately Netanyahu is not right wing. Until Netanyahu arrived at the scene, it was clear both in Israel and in the world that there was a right wing and a left wing. When the left is in government, you could talk about dividing the country. When the right is in government, you can't talk about that.

"Then Netanyahu came and created the false impression that there's consensus between the right and the left about the two-state solution. It's not true, and it causes great damage to the State of Israel's positions and interests.

"I meet with American Congressmen who tell me, 'Do you want me to be more holy than the pope? Your prime minister calls for a two-state solution, so you want us to be more right wing than him?'"