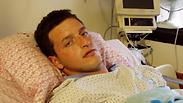 Dror Zicherman after his injury. Had to learn everything from the beginning
Wounded IDF fighters can now run again
A special foot brace invented for American troops has completely changed the lives of Israeli soldiers wounded in action; from almost full foot paralysis, the IDEO brace has landed these soldiers back on their feet, enabling them to run several kilometers. 'I never believed I would be able to walk again, let alone run, but whoever sees me today realizes everything is possible,' says one of the recovered soldiers.
In late 2002, after Operation Defensive Shield, career officer Dudu Hakimian was wounded during an operational activity in the Tulkarm area. The fortified jeep he was travelling in with a fellow solider drove over an explosive device and detonated, and the shrapnel left Hakimian with a serious leg injuries. The other passenger's two legs had to be amputated as a result of the strong blast.

"I was hurt wherever there was no bullet-proof vest, from the groin to the ankle," recounts Dudu, who is known as Dr. Hakimian today. "I had fractures in my bones, a smashed thighbone and shrapnel which entered my right eye. The explosive device contained iron pellets which flew in every direction, as well as waste, which causes infections following the explosion."

Hakimian underwent surgery several times in order to set the smashed bones. He was hospitalized for three months before undergoing a four-month rehabilitation process, and was then released from the army without resuming his service.

"After the rehabilitation period, in which I spent several months mostly at home, I decided that I wanted to study something, to get out of the house a bit," Hakimian recounts. "So I moved to Jerusalem, started studying for the psychometric test, and at the same time began a preparatory course for medicine at Hebrew University. And so it happened at a relatively old age, 25, I was admitted to medical school and started studying. Everyone in my class was much younger than me."

And how did your family react?

"They were satisfied of course," Hakimian smiles. "They were glad that I finally had a direction."
The IDEO foot brace
Ryan Blanck, an American physiotherapist specializing in prosthesis installment, was summoned in 2003 to a meeting with senior US Army officials. The subject of the meeting was the financial cost of injuries in the army's elite units. The army's top brass realized that it was investing a lot of money in elite units where soldiers had a higher risk of being wounded, and that many of them were unable to return to service following their injuries.

Blanck began looking into the issue and found that many of the injuries the soldiers suffered from were caused by damage to a nerve in the foot, which leads to its partial paralysis. In this condition, which is called "drop foot" and can be found particularly among soldiers, the foot is dragged and dropped while walking.

Blanck decided to create a sort of foot brace which would allow soldiers with drop foot to resume their service. It took him a year to build the prototype, which was given the name IDEO.

Watch: This is how the IDEO works

The IDEO is built in a way that the foot is not placed in a natural 90-degree position, but is slightly elevated. The material the brace is made of is custom made to fit the foot of the wounded person it serves.

"The IDEO's uniqueness," Hakimian explains, "is in the fact that each brace is tailor-made for the user. Blanck puts a lot of time into matching each unit to its user, to the type of injury and to future uses. The IDEO's shape and the material it is made of collect the energy during the walk, and manage to release it again like a sort of spring. You step on your foot and the energy is stored, and the moment you lift it up you are pushed forward and your movement is intensified."

The wounded arrive at Blanck's clinic, where they undergo a brace fitting process that takes a few days. After the foot brace is ready, the patient stays at the clinic for a week or two, during which he learns how to optimally use his IDEO.

"At the end of this process, and after guidance and very intense training aimed at strengthening the core muscles, Pilates and weights, the wounded who come to the clinic are capable of running," says Hakimian. "Guys who were unable to walk start running. It's amazing."

Who is this special device suitable for?

"For people suffering from drop foot, people with an ankle fusion, people with partial damage to the foot, and mainly people who are basically active and want to exercise."

Sport can be seen by some people as a bonus, as a luxury.

"I don't think so. Because unlike people who have been traumatized for life as a result of cancer, for example, or other diseases, here we are talking about people who were able to run a half a marathon and engaged in physical activity before they were wounded. Their rehabilitation is different from the rehabilitation of people who are interested, for example, in taking a stroll with the children or moving from the bed to a chair. These guys won't be satisfied until they manage to run again. Sport is an excellent way for rehabilitation. They just want to go back to what they used to be."
Helping friends in a state of trauma
Hakimian first heard of Brothers for Life from the soldier who was sitting next to him in the vehicle that drove over the explosive device. It is a non-profit organization which, according to its website, works to "empower injured combat soldiers to help recently injured combat soldiers reclaim their lives, fulfill their dreams, and continue to serve and inspire the Jewish nation."

The organization is run by officers and fighters who were wounded in operational activities and in wars, and its members meet at the "Brothers' Home" in Moshav Kfar Truman, which accommodates the organization's offices, serves as a base for the members' activities and basically functions as a home for all intents and purposes for the wounded fighters.

Brother for Life's monthly training (Video: Adi Berkovich) (צילום: עדי ברקוביץ' , עריכה: שירן חביב)

"The Brothers' Home is a ray of light for many wounded fighters who see it as an embracing and supportive place within the tough reality they have found themselves in," says an organization official.

"I arrived at the organization in a different state than the rest of the members," Hakimian recalls. "I was married with a daughter, 31 years old, fifth year in medical school. From the very first moment, I realized I had come here with an agenda. I decided that I wanted to give. After a while, I was approached by one of the organization's managers, who asked if I could help start a medical project. There are many members here with complicated medical problems, mainly with different kinds of trauma, and they need different types of help."

What do you mean by trauma victims? People diagnosed with shell shock?

"Trauma can be physical or mental. It can be caused as a result of an explosive device, gunshots or a fire, but some of the organization members are soldiers who were in combat activity and did not lose a single hair from their head."
Brothers for Life's medical project
Hakimian accepted the challenge and created the organization's medical project, which aims to help the members – young people whose lives changed at once following their injury – with any medical issue. "And they often face difficult medical situations," he says.

"The project's goal is to raise the members' awareness and knowledge of their medical condition. Among other things, it means sitting with them and interpreting what the doctor said, translating it into a language they can understand. There are guys here who find themselves in complicated medical situations. There are some who want to know, for example, if their condition will last forever. They need knowledge, information, mediation, awareness. That's why this project was started."

In addition, the organization's medical project organizes for the wounded soldiers meetings with physicians abroad, mainly in the United States, in order to receive second opinions on complicated medical situations.

"It's not that the doctors there are better," Hakimian explains. "It's simply that everything is big there. The doctors see this type of injury twice or three times a week, they have more expertise and more knowledge, and they can help in cases which are considered rare here."
Avishai's story: 'Doctor laughed at my brace'
Avishai Iraki was wounded from RPG fire in the Jabalya area in 2006 during Operation Summer Rains. "I got shrapnel mainly in my thigh and leg area, and one fragment paralyzed my foot," he recounts. "Over the years, I moved around with several types of braces, some light and some very heavy, but none of them actually helped me perform any activity. I was in pain, dealing with the devices was complicated, it wasn't comfortable and I gained weight which burdened my leg."
From the moment he was wounded, Iraki hoped to become physically active again. With the organization's help, he flew to New York to meet with an orthopedic specialist. "That doctor laughed at the heavy brace I was with," he says. "A year later, I was informed that there was a brace which might fit and help me and which would get me running and exercising again. I flew to Seattle, adjusted the IDEO to my foot and got used to it very fast."
"Suddenly I can run with a lot less pain," says Iraki. "Suddenly my mobility has become easier, my entire day-to-day life has improved. I've began exercising, I've reached the level of a 5-kilometer run, which was a dream I didn't think I would be able to fulfill until not so long ago. Since then, I feel much better in general, my soul feels healthy and my body feels strong."
Dror's story: 'Like something bionic'
Dror Zicherman was wounded in 2005 from an explosive device detonated by a suicide bomber at a roadblock outside Tulkarm. The explosion killed his officer and left Dror seriously wounded.

"I was lying on the floor with my right leg completely crushed and my body and face filled with shrapnel and burns. I was evacuated to the hospital from there, lost blood and was clinically dead. I woke up after being in a coma for three days, and then the recovery and rehabilitation process began.

"I basically had to get used to a new situation. From an independent person, I turned into a person who had to learn everything from the beginning, as well as to walk. I underwent about 30 operations and a very long rehabilitation process, at the end of which I was still unable to do the things I was used to doing before. I could hardly walk, I had a very uncomfortable brace and I walked with special shoes which hurt, with the help of a walking stick.

"For 10 years after the injury, I was unable to walk 100 meters without suffering. I was very gloomy when I went outside. I would calculate my steps, look for shortcuts. Every movement was calculated. Until Brothers for Life presented me with the IDEO brace. I couldn't believe there was such a thing that could make my leg better. It sounded like science fiction that I would be able to walk without any pain. I never believed I would be able to run.

"With the brace, I felt my leg was more stable, wasn't falling. It was as if they brought me something bionic. It felt great. I was 'high' because I finally felt a real improvement. I was finally given the possibility to walk without a restriction. Thanks to this brace, I have exercised since then more than I exercised my entire life. I exercise very frequently, especially CrossFit, and I plan to become a fitness trainer because it's good for my body and soul. Whoever will see me today will realize that everything is possible."
Supervised training program
After the brace is fitted in the US, the project's participants return to Israel and start working according to a fitness program with the help and supervision of the project's professional team at the organization, which includes a doctor, a physiotherapist and a running trainer.
"The purpose of the training in the first period after the brace is fitted is general muscle strengthening, specific muscle strengthening for the back and leg muscles, which are needed for running with the brace, and improving heart-lung endurance," explains the fitness trainer who works with the organization members. "The group members then move on to running training according to a personal program received from the running trainer, or train in a different sports facility in their residential area.
"Every month, we hold a meeting at the Brothers for Life House to monitor the progress, locate difficulties and problems and hold group training. The final goal of the process is personal and varies. We set different goals for each of the project members according to their desires and abilities."