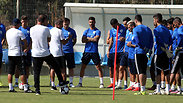 Israel national team
Photo: Yariv Katz
Israel/Spain WC qualifier to be played in city boycotting Israel
The decision to hold a World Cup qualifying game between Spain and Israel in the city of Gijon has raised ire among officials in Israel due to the city passing a boycott resolution last January; 'It is unclear to us why out of all places, Spain chose the hold the game in this city.'
The Israel national team's World Cup qualifying game against Spain in Gijon has angered state officials because the city hosting the game has declared a boycott against Israel. Officials are also concerned that protests will accompany the game, which will be held on the 24th of March.

The Spanish national team holds games in many cities, so residents across the country have the opportunity to see the games.

In January 2016, the city council approved a boycott on Israel, which was initiated by extreme left-wing and socialist parties. Gijon Mayor Carmen Moriyón was opposed to the boycott, but her party and other centrist parties abstained and failed to overturn the decision.

Pro-Israel activists appealed the decision to the Administrative Court, but the judge rejected the appeal on the grounds that the action had no real practical significance, but was only a political statement.

Moriyón said that the decision was approved by the city council, but she has no intention of implementing it.

In light of the city's attitude towards Israel, the Israel national team is not expecting a warm reception. "It makes us sick that the team has to come and play in a place that is boycotting the State of Israel, even if it is just a declaration," said state officials. "It is unclear to us why out of all places, Spain chose the hold the game in this city."

The Israel Football Association said, "We have no information or explanation as to why Spain chose to hold the match in Gijon. They do not need our approval, of course. The relations between the associations are excellent. We play wherever is permitted, we don't mix sports with anything else."