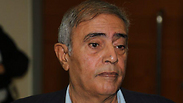 The former judge
Photo: Motti Kimchi
The former president of the Nazareth District Court, retired Judge Yitzhak Cohen pleaded guilty on Sunday to sexual harassment in a plea bargain that has sentenced him to community service, subject to the consent of the probation service.

Cohen was accused of sexually harassing a court employee with whom he worked in 2014.

The state is seeking a punishment of community service and compensation to the victim in the amount of NIS 2,500. It also seeks to accept the recommendation of the probation service regarding the number of hours that Cohen should serve. The prosecution will to a non-conviction, subject to the probation service's recommendation.

Cohen retired two years ago after an investigation was opened against him for sexual offenses and tax fraud. A statement from him stated that he had decided to resign after tough deliberation during the continuation of his investigation "and out of consideration for the benefit of the district court, which is dear to his heart."

Investigators from the National Fraud Unit collected testimony from five women, each of whom complained of a separate incident. Three of the complainants' cases were beyond the statute of limitations. Then-Justice Minister Tzipi Livni and then-Supreme Court President Asher Grunis decided to cancel Cohen's candidacy for the Supreme Court.

During the investigation, other judges were investigated who admitted that they had known about Cohen's alleged improper conduct, but they had not reported him because his alleged victims were afraid to damage their positions at work.

The affair has drawn to a conclusion now, with Cohen standing and declaring in court that he "recognizes and admits the indictment."